Last week, Okuda found himself in South Africa, invited by the Spanish embassy for the cultural program, Mzansicultura.es. He spent a few days visiting the capital, Capetown, with his friend Faith47, and left some samples of his art in SideStudios (Woodstock).
Afterwards, he headed to Johannesburg to participate in the second edition of 'City of Gold', a few days dedicated to international urban art, during which other international artists, such as Atom, Tasso, Case (Germany), Lazoo (France), Solo One (UK), and Dal East (China) also participated, along with other representatives from the South African scene.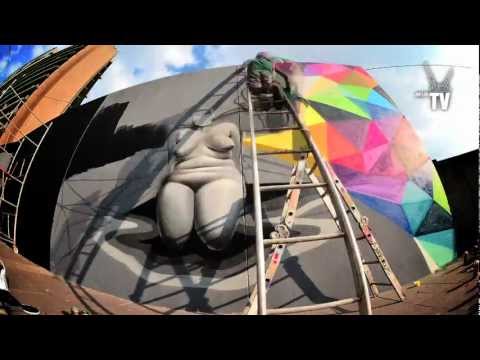 The festival kicked off with a collective exposition in Afronova Gallery, and the following days (up to last wednesday) were dedicated to the murals being done on the street. We'll leave you with some of the exhibits and mural pieces by Okuda, with photos courtesy of Derek Smith.
Installation in Joburg.
The collection is titled 'Lost in the Infinite', and the artist, who is from Santander but now lives in Madrid, offers us this description, "My work has for quite some time dealt with the same subjects; existentialism, conflict between nature and capitalism, self-destruction, and false freedom."