Various writers will be contacted to try out the new Hardcore2, and we will also prepare a small test for each writer of the VERSUS project, all in relation to the 5 main characteristics of the new product.
Homie, Amigo, Homr… The names might change from time to time, but his style is unmistakable! Member of both crews TSK and Hawaii Computers and a writer with credentials that are impossible to deny.  He was confronted with the color Azul Christiania and he showed us a peerless calm and  graceful attitude while painting. It was a true delight too see Amigo use the Hardcore 2.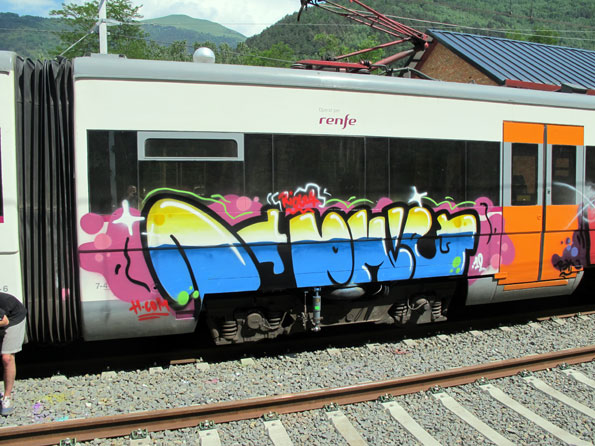 The pieces that comes with this interview aren't precisely a bunch of trash either. The truth is, with no doubt, that Amigo brings us a high quality of graffiti.
Quantity: What is the most pieces you have made in a single day?
3 or 4 maybe, I don't take notice that much… Same as i don't think about passing a day without having made a piece…
Covery: In what cities have you been painting?
Once i painted in my neighborhood, and sometimes i thought i did, but i was somewhere else.
Pressure: What is the biggest problem you have come across while painting?
That must be not being able to paint in the end…
Colors: What combination of colors did you choose for this, and why?
(Laughs)… The whole color thing is like a disease… and I'm not a doctor.
Drying: What is the longest period you have gone through without painting?
Im sorry… What day is it today?
How was your experience of painting with hardcore2?
Fun! The only thing missing now are magic cans that can whistle or something…