Under the concept Diagrama de Venn (Venn diagram) is constructed the exhibition of the same name hosted by the Mustang Art Gallery of Elche (Spain). The Venn diagram is a graphic explanation which represents the intersection of overlapping concepts. Three artistic identities (Carton Lab, Rosh and Erre Gálvez) each present  their work interwoven with these of the others, thus generating a complete, consistent multimedia image.
The Alicante resident Rosh is responsible for carrying out the second operation. His work is presented under the name Peeping Tom, referring to a character of the legend of Lady Godiva: the tailor voyeur who went blind because he was always looking through a hole. A composition of concentric circles fills the space, reminding of a watchful eye. The color, in the typical the style of Rosh, expands through the exhibition space invading Carton Lab, in a potent superposition of works as suggested by the Diagrama de Venn.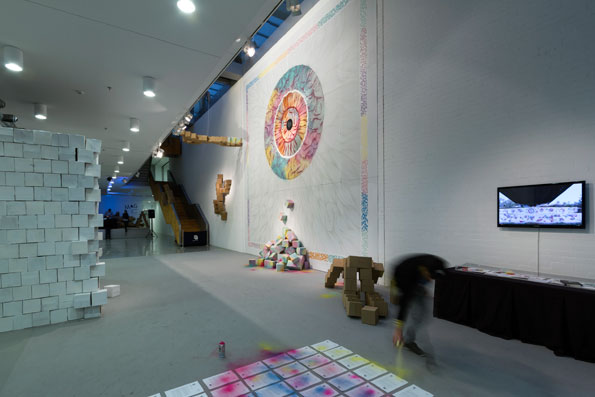 Photographies by Álvaro Vicente.