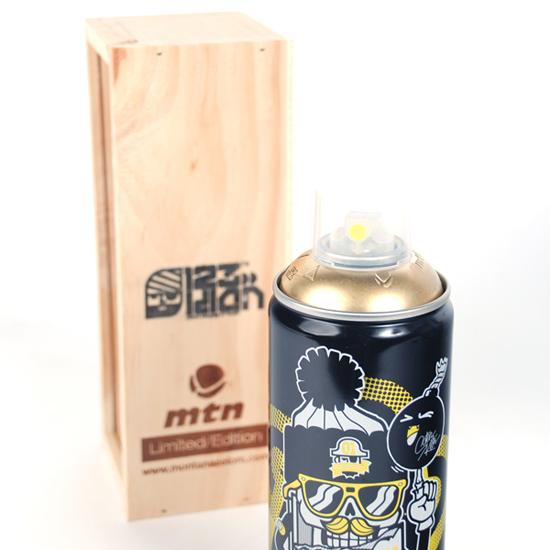 Yo 123Klan!
-Can you guys explain what's behind the design you realized for your MTN Limited Edition? everything went smooth or you had some beef before agreeing the final idea?
The idea behind the design we made is all about hip hop. We picked up gold color because everything we touch turned gold.
-How does it feel to be part of a project like this?
It feels like a million of butterflies comes out from your ass.
-Can you name 10 concepts that define the 123Klan's identity?
Rap music money
Graffiti boy and graffiti girl
Out of control skinny caps
Underground realness
Unstoppable internet zulus
Rastafari spray paint
Wildstyle parents
Electro Radio kids
Vector masters
Screaming french eagles

-Your career as Designers plus Bandit-1$m clothing keep you very busy, I guess. Less spare time so less graffiti?
Less is more. Of course we are very busy by doing many different things but what counts finally is to have fun in everything we do, it doesn't matter what it is. As for graffiti, we never thought to quit it a day, actually graffiti is probably what balance our lives and still stay what we love to do the most, which is: writing our names in graffiti on a wall!
-After Pow Wow Hawaii we can can see several claims to "Rapnation" in your pieces. What's this about? A new crew, a secret society or the rise of a new global movement?
Exactly, it is the rise of a new global movement, it is too late to stop it, our members are world wide, loyals, super talented and powerful to the fullest!
-While we are here with you… Lets make a brief interview in the style of your name… Just answer with 1, 2, 3 examples of what pops up in your mind.
-European city?
1. Barcelona
2. Paris
3. Berlin
Barcelona
-Old School?
1. Blade
2. Dondi
3. Seen
Dondi

-Street art?
1. Obey
2. Banksy
3. Blu
Obey
-Music?
1. Michael Jackson
2. Elvis
3. Milli Vanilli
Milli Vanilli

-Flavor?
1. Strawberry
2. Vanilla
3. Chocolate
Vanilla
-Wildstyle?
1. Revok
2. Dare
3. Bates
Dare
-Tagging?
1. Earsnot
2. Twist
3. Kegr
Twist
-Girls?
1. Rosy One
2. Utah
3. Mad C
Rosy One
-Food?
1. Italian
2. American
3. French
American

-Color?
1. Magenta
2. Pistacho
3. Mandarina
Mandarina
-Rap?
1. Biggie
2. Pac
3. Mc Hammer
Mc Hammer
-Place?
1. Lille
2. Montreal
3. Hawaii
Lille

-Art?
1. Classic
2. Modern
3. Contemporary

Contemporary

-Religion?
1. Catholic
2. Scien-tology
3. Rapnation
Rapnation


Shout outs?
JUNKY T, SUGARC, SKAM, DEAN, SPER, RESO, ECB, COPE2, INDIE, BROK, EMOY, CNS CREW, BATES, SWET, TOAST, DARE, SCUM, NEON, CAN2, WOW123, STUKA, ATOM, FLYING FORTRESS, MIST, TILT, CEET, DER, T&K,  SUPERDEUX, TERMINUS, KEM5, RATH, SEN2, JORDI, HITCHHIKE MIKE, OWNS, REVOK, RIME, SEVER, DABS & MYLA, NYCHOS, AARON DE LA CRUZ, POW WOW FAMILY, SUITMAN, MEGGS, WANE, PHIBS, RONE, WIL BARRAS, KAMEA HADAR, PROGRESS, JASPER WONG, JEFF HAMADA, KAKAO77, APLE76, ANKH, ENSU, ISHAM, ZOER, DEMS, KAPI, ROZY ONE, SELEKA, BONIM, LOOMIT, DAIM, JAYE, NILKO, ORELSAN, TRISTAN EATON, SCRIBE, EKLIPS, KRISTIN FARR, JEFF MEADOW, KET, MICKEY, LADY PINK, SMITH, SENTO, SINO, ASTRO, ZEK, SENK, SNIPER, CRIZ, TKID, SLICK, DEFER, SLEEPS, PERSUE, BRISK, ZETA, OPAK, FANCY, HONET, DESY, BOMBER, DARCO, INK76, SONIC, 3TTMAN, REMED, MEDA, ALEX, KONGO, LAZOO, JUAN, MAZOUT, ALEXONE, JACK2, MAMBO, DOC TC5, SYE TC5, CES, SKORE, KILO, SHOK1, ROUGH, FLITE, NEED, WIRE, DIZER,  DICKSA, NASTY, SHADOW, BIGFOOT, BOM5, POSE, WITNESS, TRB DESIGN, BURLESQUE OF NORTH AMERICA, CHINO, DECK2, DEALYT, ASKEW, ENUE, LA MADE, MARTHA COOPER, ILK, ALTER, TABAS, CLAW MONEY, NIC1, TIWS, PRIME, ESTRIA, SMART ONE, SILOETTE, POESIA, SAMUEL RODRIGUEZ, PRAYSTATION, HYDRO74, MR KONE, PRODUCT ETC, BENDITO RAGE, SERVAL, ESPRIT, POET73, JABBA, RECTO, KENT, MADC, ABAZ D'ATOME, ZEDZ, EROSIE, JASE, SCOTTY76, OZER, TURF, AKUMA, DESK, TCHUG, ERIC BERTRAND, CEAZ, STARE, JAES,VISION.