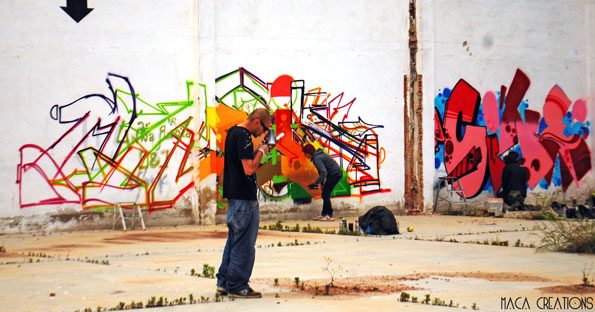 Sometimes things seem pop up completely unprovoked. Occasionally a groups of people come together to organize an expo, they call some artists and put together a show. But sometimes all you need is a permit and a graffiti writer that calls his friends to get a good show. Since writers are a bit like a virus, I guess you can imagine the rest. Expand and conquer.
It seems like a fairy tale, but this is what happened in Mataro outside of Barcelona last month.
The classic love story: The mayor of the town grants permission to paint the walls of some torn down building site. Local writer tells his friends to come, (Deso / Undos, thanks!). They don't stop until its all painted.
Heres some pics of what was created.
'They called me from the commercial association of Mataró to paint two empty lots that was in quite bad shape. It was a Saturday and the reason was to do it for the business fair they held that weekend and their reason for calling us was to promote us as "artists" for future collaborations and work. The intention was that we should paint something in relation to shops and businesses of the town, and my answer was that without any budget estimate for the work you can not make any demands on what you want to be created. In the end they gave us the liberty to paint whatever we wanted to.  The space they gave is was considerably large, but not compared to the amount of people that showed up to paint. It was still a great experience: People came to take photos of us working, asking questions out of curiosity and thanking us for the initiative. One neighbor even came down to thank us for the nice view his flat now had gotten. It was a really nice day for us, even if the association that gave the permission said to me that they expected something else from us. They said they wanted more landscapes and more easily read messages, and they also said that it was a pity that such nice white wall now was full of unreadable letter, and that these where like coded messages between us. I guess we can safely say that graffiti remains unaccepted by society, and that every new form of expression not known of has a reason to be rejected.'
Deso.