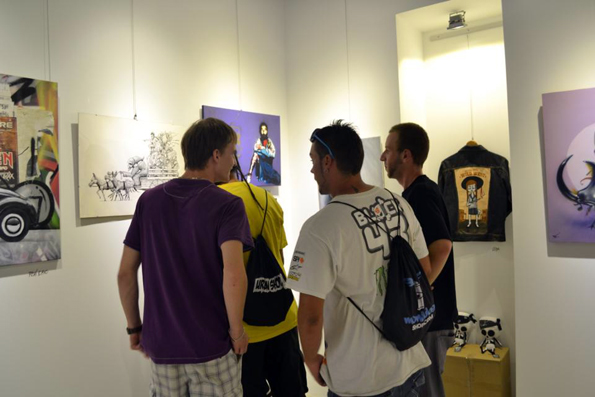 'Last August 3, Monduber Gallery, una opened in Gandia, born from conceptualism and a commitment to art. Monduber Gallery is hidden within a business, in the purest style of the Hidden Kitchen in New York. From the start we knew where to position ourselves, nowhere seemed more perfect than an art store, where the public, art lovers and artists, can make the transition from the elements and technique to the finished work of art.
Monduber Gallery is the forceful response to a widespread trend, where the artistic relationship, the association with the viewer and the cultural artistic interaction has been replaced by the alienation of the author, his work and his connection with the viewer.
Simply, we believe that the market should not be the principal concern for an art gallery, the generation of economic transactions should be a secondary, residual activity within the Gallery, since it destroys the relationship that gives humanity to art itself.
At Monduber Gallery we take care of our artists and affirm and promise that each and every one will be treated with the seriousness, respect and the professionalism that they deserve.
Monduber Gallery has been created in a room of basic and average size, conceived in the womb of Pinturas Monduber, located on avenida Republica Argentina de Gandia (Valencia). Its facilities include mobile focal lighting , a fleximobile system and the ability of altering its spaces for total customization, to suit the work and artist. We have put an end to white walls as we believe that they only intervene.
Our first exhibition can be visited until the 21st of September. It is a pleasure to have the presence and the incredible works of: INCA, TASER, JOHE, KIES, TOTEM, NOKES, DEAN, SACK, JORO, KANER, APES, 2NEZ, CITA, BICHOS, GABRIEL, TMX, LOIS, SER, PICHI, AVO, OSKAR, CHAPU, KREA, BUBA and DEMIA.
The upcoming events include exhibitions, interventions, displays and in response to multiple artist requests, the celebration of two Graffiti Wars.
Our next event, on the 21st, will be the closing of our first exhibition, which will be a special moment. At Monduber Gallery we like to celebrate happy endings just the same as happy openings..
If you want to be part of our agenda, send an email to mondubergallery@hotmail.com, it will be a real pleasure to meet you and to get to know your work.
We believe that it is due to our attitude and commitment that Monduber Gallery will give its full support to the street art line "Vandal". There is no logical reason not to recognize what we carry inside and what moves us. We do not seek our place in history for what we appear to be, rather than for what we actually are.
Thanks to Montana Colors for supporting the culture of art and for opening a gap that we are passionate about.'
Francisco Picazo.