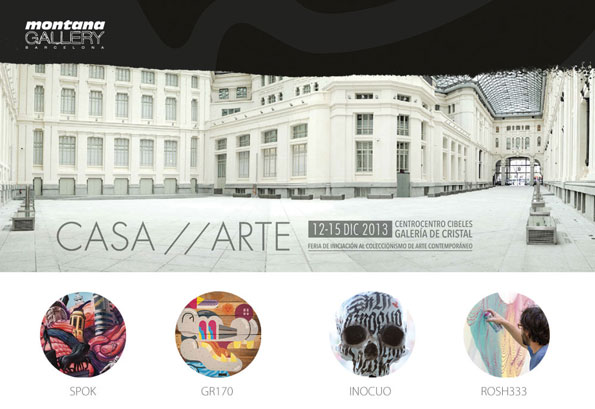 Coinciding with its 10th anniversary, Montana Gallery Barcelona is heading to the international contemporary art fair, "Casa//Arte" which will take place from the 12th to the 15th in the 'Galería de Cristal' at the Cibeles Palace in Madrid. And it will do so while maintaining all of its essence with a series of events, with the common link being the parallel work between the studio (interior) and the urban environment (exterior).
Urban art has always been our defining focus and each of these events displays, in an authentic and genuine way, the characteristics of urban art. Being able to do that is our strength, and we wanted to demonstrate it using two different spaces: one in which we will present graphic work in different formats by the artists Spok (who will also be opening his expo in Barcelona on Thursday the 12th), Grito170 and Inocuo; and the other space with which it wouldn't be possible to understand the true value of this content, and which will host an exhibition drawn directly from the live development of a piece of art, by Rosh333.
Come out to the fair and say hi to us at stand 01 at the Galeria de Cristal in the Cibeles Palace (Montalban st.)
Timetable: from Thurs the 12th (inauguration) to Sat the 14th, from 12 pm to 10 pm, and Sun the 15th from 11 am to 3 pm.
More on that soon.