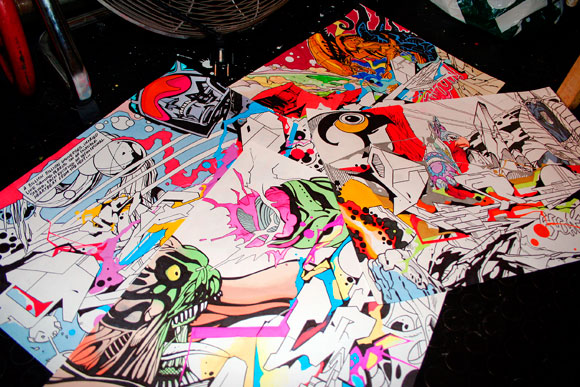 In the world of sketches it is bound to check out the work of PRO176. His production on paper is from another galaxy. This Parisian writer takes the opportunity to announce 'Cosmonometry', his upcoming first book which will be released durning the spring of 2014.
To draw is one of the keys to obtain a good style, obtained from the fluidity on walls and from the coherence in its letters.
 I practice this discipline a lot since my introduction to the world of graffiti, I do not know how many sheets of paper I had colorized and created on. It is no secret that it is good and necessary to practice regularly. Same as for the use of cans, but the sketch is my sparring partner, and it's from this intense practice that a fluent piece comes.
This is where you acquire the knowledge of forms and it is what helps you to obtain a wide pallet of effects that allows you to develop your own combinations. Later comes the decoration of the background and the actors, and my job in this is like a movie director. At the same time, I grant a precise role to every character, so that their presence is not that of the simple representation. All these elements constitutes my movie as a final product. The objective being that the spectator observes the scene by taking place subjectively.
I try to raise the level of my productions every year and never to rest on my laurels. I am in a perpetual research. If you wanna know more, I'll explain the subject well in my first book "Cosmonometry" which is more than 250 pages thick, and will be out in spring 2014.

PRO176 RTZ-UB