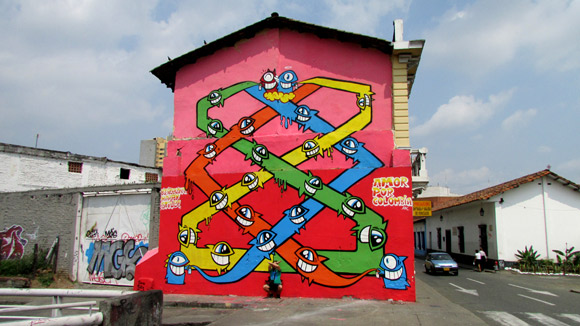 After the interview we made with our friend GR170, we have to move along and do the same with the rest of the participants of the project SprayPlanet Gallery. This Pez is up, one of the most famous icon painters in Graffiti which from Barcelona has brought his funny and peculiar style all around the world. Remember that you can get Pez's print, as well as the ones of Belin and Gr170 through this link. 
-What was the first thing that came to your mind when you where introduced to this project?
First of all it is great pleasure to work with Montana Colors again, and the second the opportunity to be able to share one of my latest creations.
-Explain what your contribution consists of.
It is a fusion of letters and characters. I love to mix styles and give it a amusing touch, fresh and personal.
-Both the technique and the performance of your contribution seems to be of a style more accessible to a larger audience and with less purchasing power than the ones we might find in the world of art. What is your opinion of serigraphy as a format?
I think that the first serigraphy that I made was in 2004. Since then I haven't stopped to make design and experiment with prints. I think it is a good way to offer your art to modest price for people to be able to have piece of your creations.
-How did you come up with the style which defines you as the artist you are today?
Drawing at the beach, experimenting with recycled goods, enjoying the streets, absorbing whats around me and most of all putting as much personality and will possible into it.
– Tell us some fun anecdote from your experiences of painting.
One afternoon in the center of Barcelona an older woman came up to us and had brought us french fries and beers for all the people who was painting. She was so proud of what we had been making in front of her house. She said "this is really nice, not like the scribbles people make on most walls", and someone answered: "But madam, we are those same people!". The woman didn't take more notice of the comment and kept bringing us food and beers for the rest of the day.
-What do you value the most when looking at a piece of art?
It has to have simplicity, but have a great impact.
-Who do you admire, and why?
My mother, she didn't teach me to paint, but she showed me the values in life which in its turn brought me to where I am today.
-Is there something you have done lately which you are particularly proud of?  
Having kids: Ian is 3 months old now and Marky is 4. I'm proud of being a graffiti-dad.