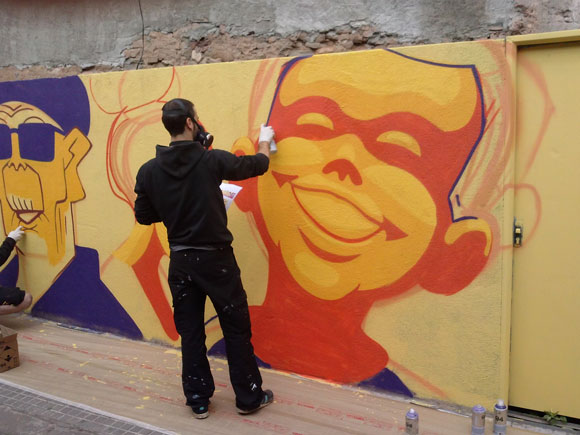 "The Cercle Artístic de Manresa has together with Montana Colors and Pintures Sagrada Familia, the official distributor in the Bages Capital, for the second time carried out their project Murs Plastics. After the mural works of H101 and Roc in the center of the city, they present two local artist and designers, Daniel Thomas and Pedro Simón, who also has intervened on other walls in the historic center of Manresa.
This time, his work is based in a homage to the authentic protagonists in the streets of any city, the neighbors, the regular people which makes out the day-to-day reality of any corner of the planet, in which ever neighborhood of any city. In this case, portraits of the neighbors in Manresa, people of all ages, of all types of conditions, which all shares the same space: The wall.
A set of warm portraits in a spectrum of red, yellow and orange colors which melts in with a shade of purple. This second project, led by the crew of Murs Plàstics, is a lovely reflection of the city's reality which can represent the situation of any other place in the world, with different faces, but with the same spirit".