More than he is a writer, Yowin is an icon. Member of the rap and graffiti crew, Rosa Rosario, and legendary writer from L'Hospitalet del Llobregat, he's back to win the game with this trio of aces in hand.
'That day we had just left a rap concert by my group, Rosa Rosario. It was 2010 if I'm not mistaken. We'd just released our LP and had a release party in the Apolo club. It got really packed with graffiti writers and later on, after one too many whiskies, we decided to go paint for laughs. This was what happened and you can already imagine what followed; with twenty writers on the platform, the security came and as soon as they saw us they took off running. Ten minutes later the riot police arrived but we were already gone.'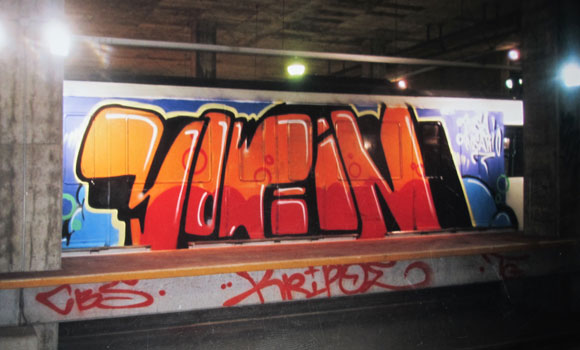 'I remember the day we did this piece because we had a serious problem; the police showed up from all around us. That day it was Chaca, Tate, and I. I think another couple friends came too but I can't remember too well. But what I do remember is that they were just about to catch us because we'd spent five minutes more than what we'd calculated. In the end nothing happened; we were healthy and safe and once again won the battle. Fuck cops.
I like the piece particularly because it's a good top to bottom-wholecar together with Chaca, and I like the color combo and shape, with more rounded letters than I usually used to do at that time.'
This one brings back fond memories because it was around the year 2000 more or less. It was the whole TSK crew: Vino, Blue, Trojan, Cent, and Flus. The truth is we had an amazing time, a lot of laughs and really good pieces. I've always had a soft spot for this one because it was the first well known group that I got into at the young age of 17… forever bastards!