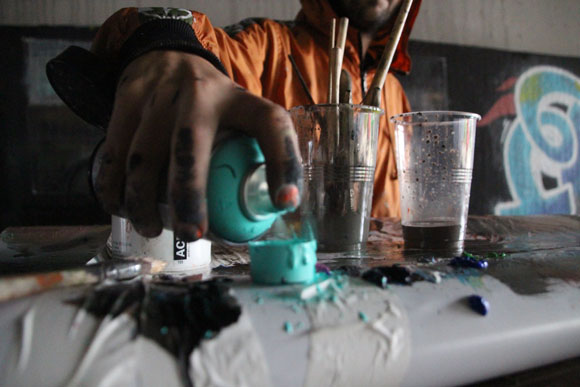 Last week Sebas Velasco came to Barcelona and presented a series of new works below the title "Nighthawks Barcelona".
He came down from Bilbao together with his friends Seck (Laudio, Vitoria), Iñigo (Donosti) and Mesa (Cádiz). The Basque team felt like home, and not only because of the rain which didn't stop falling for the whole weekend.
Due to the circunstances, Sebas didn't want to loose the opportunity to experiment with the new Water Based and took them on improvised field trip down below a bridge together with Derok (Vitoria) and Yubia (Bilbao), both basque friends of his which now lives in Barcelona.
Heres some pictures from their weekend, and remember that the expo will remain open at El Montana Cafè Restaurant for the rest of the month (December).
Don't forget to go and see it, it is really worth your while…