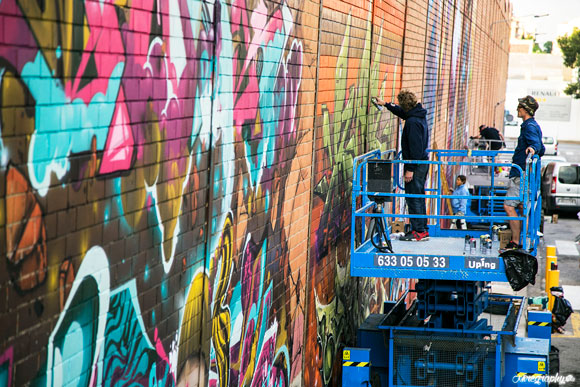 Text by Alberto F.
Surely we've heard more than once, talk from some conventional writer who discredits the role of graffiti festivals in the culture. For some, painting with permission, with sponsored paint, and sharing a wall with strangers in a somewhat exhibitionist attitude is quite far from what we would call, "real graffiti".
Well f*ck them. Graffiti festivals, aside from being celebrations full of fun and entertainment, can be really enriching events as much for their participants as they are for their spectators.
"It's turning out really good", Hinch says to me, (a currently active writer who's spent more than 20 years dedicated himself to painting exclusively metros and trains) while contemplating intricate wild styles with multiple effects that have little to do with his own style.
He's a perfect example to demonstrate the fact that any worthwhile writer should know how to appreciate graffiti styles that are different from their own, or at least and in the same way as with street art, to consider any form of mural expression preferable over a grey wall.
Meeting interesting people, promoting improvement through healthy competition, learning different styles and techniques, or simply enjoying the creative show are merely footnotes next to the most important aspect of it all; remembering the variety of visions there are in graffiti and the large quantity of wonderful people that are received by its open arms.
The best example on this point is the Walls Talk festival. Despite all the adversities, and hence, having been a more humble edition, Treze, Sacke, and Werens did it again. They've yet again covered another grey area in Sabadell (Barcelona, Spain) with color and a superb collection of varied styles fram all over: Karski, Bonzai, Zurik, Miedo Garcia, Zoeroner, Musa, Emak,  Radok, Enric Sant and Coet among others. Miregraphy has taken charge of collecting the images we've selected up next.