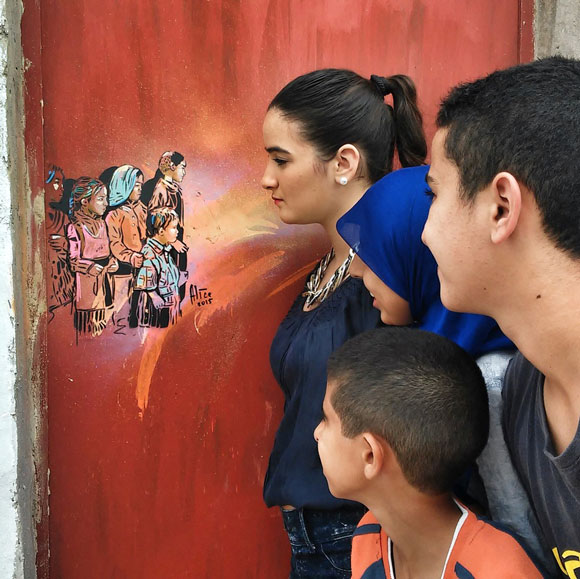 Melilla is a autonomous city which belongs to Spain, geographically located on the Mediterranean coast of northern Africa right below the Spanish mainland. An enclave which borders Spain with Marroco and which presents problems related to commercial contraband and, especially, problems of illegal immigration.
This is the place where Alice Pasquini spent five days working side by side with the organization Kahinarte. The Italian artist once again managed to skillfully fit her creations in to the context of surroundings far from the world of urban arts. She herslef explain in her own words about her experience anlomg with details of her pieces…
Melilla is a strange place surrounded by a border fence dividing Spain from Morocco, where immigrants try to pass into what is EU territory by any manner possible. Kahinarte has been working in the peripheral districts of Melilla for several years to bring art, cultural, and integration to the population, specifically women and children, in order to create a more inclusive city, one that cuts across the economic and ethnic divides.
The kids of the Rastro district showed me their neighborhood, allowing me to add on to a piece they had painted during a workshop – "Lo Esencial Es Invisibile A Los Ojos" or "What Is Essential Is Invisibile to the Eye." Adding to the writing, which is a quote from 'The Little Prince,' I painted one of the girls from the neighborhood, who participated in the workshop where the kids painted the phrase on the wall.
The kids in the Rastro participate in different courses with Kahinarte, from photography and video making to painting and working in radio. All to expand their minds and see what different possibilities they have in life. In these areas life is lived on the streets, with some children, left without ID or families, living together in houses and surviving from charity.
From painting a little girl in a neighborhood market – the only girl in a space reserved for men – to painting a piece in the Hispanidad district inspired by a group of teenagers who hang out in the square (they told me the woman with the child strapped to her back reminded them of their grandmother), the idea was to follow along with the slogan Kahinarte teaches their students – 'Amo Mi Barrio' (I Love My Nieghborhood).  
On my last day in town, we painted in the courtyard of the women's prison in Melilla where Kahinarte has been working lately.
It's impossible to write about Melilla without writing about the border fence, topped with barbed wire and cutting a ominous figure separating Melilla and Morocco.
I painted this piece in a field filled with discarded shoes and trash. Moroccan women carry huge piles of merchandise on their backs to pass through customs, acting as "mules" to bring in goods as "personal items" and avoid import tax.
Painting in Melilla was a personal experience that taught me a lot about humanity. I have experienced its beauty and its contradictions speaking with people and learning about different cultures that at one time lived happily together without barriers.
Photos by Alice Pasquini, Francesco Bondanini, and Fatima Mesaud.