NCC is the crew made up of Seb, Imos, Come, Wake, and Sirek; writers from cities as diverse as Paris, Rome, and Valladolid (Spain) who all united by a very similar stylistic view on graffiti.
They call it Mechanical Funk and it's based on a conscious respect for the masters of NYC graffiti combined with some personalized codes and contributions. Although each of the groups' members have a recognizable personality in their styles, overall, you get the feeling of a wild style that's based on the strict rules of classic graffiti.
Graffdonuts wanted to dig further into this vision of graffiti that the Napalm Cluster Configuration share, with  an interview that we highly recommend reading.
There are some things that cannot be learned, and graffiti is not one of them.
NCC brings the future together with the NYC's traditions of Style. Mechanical Robotic Funk! Wake
I always like the fact that everything we do is very temporary and is going to be cancelled one day or another. With this in mind you'll not try to play with special effects but you will need to go to the substance. Wake
A well balanced piece for me have to come with powerful letters interlocked with crazy loops but still readable and some explosive color schemes! Come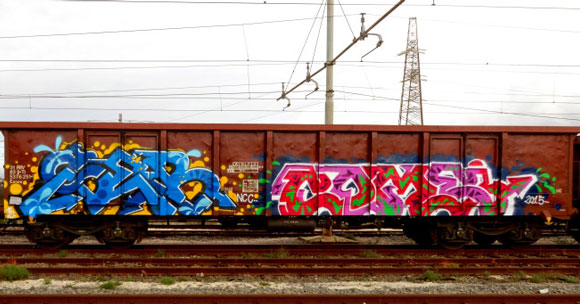 If you have 10k or more followers on Instagram but you don't have a style and your stuff is a shit, I just don't care about you…Wake