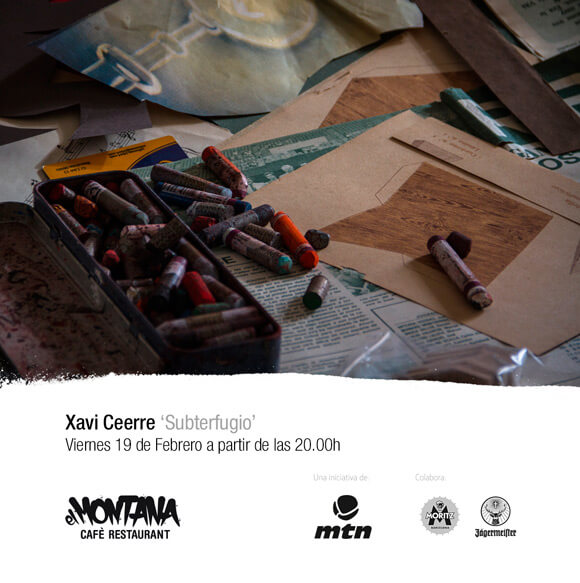 El Montana Cafè Restaurant in Barcelona once again opens its walls to the most alternative in local art. Next Friday, the exhibition titled, "Subterfugio" opens, and it's brought to us by the interesting Alcoy artist, Xavi Ceerre. If you´ve ever attended an opening at El Montana Cafe Restaurant, you already know what to expect: beers, Jaggermeister, familiar faces, new faces… and the most particular musical selection that money can buy.
Artist: Xavi Ceerre
Exhibition title: Subterfugio
Concept: Xavi Ceerre (Alcoi, 1988) is a painter who is closely situated to neoexpressionism and graffiti and is known, among other things, for integrating a certain dialectical tension regarding the aesthetic criteria that underlies Postmodern art into his work. This follows the path of his latest work in which we find a kind of denial that brings us one step closer to the certainty of art, and this denial is the reaction to any request which aims to use the work as a means for redemption. 
We are faced with a calling to the depths of desire's formlessness, on its most custom-like and prosaic level; a calling to experience sex, music, and drugs, in a way that only a kid taken out of the city could. Textures based on books from the past century, scores or academic engravings deliberately make up an amalgam of figures that hold up thanks to the very clever mastery of form and perspective.
Positioned somewhere close to Abstract expressionism but also to Geometric abstraction, Xavi Ceerre regains passion for the simplicity of physical and spatial contours, which, rather than undermines the work, fills it with action and content. The gratification here wouldn't be possible without the initial rejection because of the excessive ornamentation. Going against the obsession to beautify and induce an illusion of something that lies beyond the art, here, the idea of "no future" seems applicable to painting and graffiti. Confronting the need for decorum and eminence, Xavi Ceerre uses organic elements in order to understand art as a manifestation that's closer to earthly limitations; a Tachiste and cryptic creation that is far from falling into onanisms, obtains the manifestation of art as a result, which deprives man of the possibility for subterfuge. The author seems to be telling us that subterfuge or redemption resides in recognizing the finitude that constitutes us as material and symbolic beings. The vanity which results from the rising of art will be represented here as phallic potency. 
The bodies that Xavi Ceerre shows us are forms in which the genital determinations are only recognizable when phallic excess is equated to the anxiety for glory or power. They are the same anxieties that we recognize while standing in front of the technical and aesthetic sophistication that not even graffiti is safe from. When faced by it, a virtuous, poetic reduction drives our attention in order to guide us in the interpretation of meanings that this exhibition suggests. 
Text by: Carla García Domènech