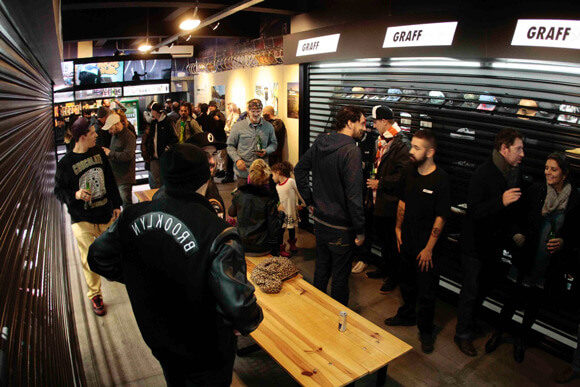 MTN Brazil has embarked a new adventure in opening a sales point in the city of Porto Alegre. GRAFFSHOP is this new establishment to supply the best products in urban culture for the state of Rio Grande do Sul. We bring you a few images from the opening, courtesy of the photographer, Marcelo Liotti.
20 years ago our venture began: being writers, constantly moving around for the passion we have to do art in the street and united by a desire to grow the graffiti scene in our country, we started to write down graffiti history beyond the walls. With a shop in the center of Sao Paulo, we started to import MTN products, consolidating MTN Brazil as an official importer and distributor of the Montana Colors brand in Brazil.
Being able to bring the best aerosol brand in the world to our country was a milestone, but it didn't stop there; our commitment to the essence of urban culture from MTN Brazil, caused Graffco to be founded for the importation and distribution of heavy hitting exclusive brands, in an attempt to bring the best products to our audience.
It is with this avant-garde spirit that GRAFFSHOP has opened. It's not just a sales point, but a meeting spot, designed to strengthen the Brazilian graffiti scene more and more.