After having received a letter from the Urban Heart Basel organization we found it necessary to do an article on the festival that is taking place in the Swiss city this summer.
In the letter, they explained that thanks to the support of Montana Colors, 30 artists from different places including, Cranio from Brazil, Mr. Cenz from England, and Hugo Mulder from Holland, were able to participate in the event.
Over 800 m2 of surface was covered all icer the city, contributing to an aesthetic improvement in a colorful and creative way.
The benefits generated from street art were made possible by the large quantity of interested visitors who, by means of a the maps that were freely distributed around the city, were able to easily find the Pop Up Gallery in Schneidergrasse, as well as the other mural locations.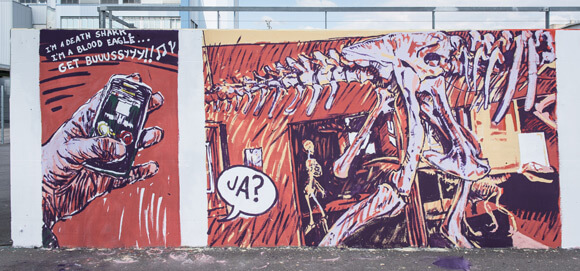 Seven months of preparations and three weeks of intense work are now reflected in the 25 paintings that adorn the walls of Basel a bring spectators much pleasure.