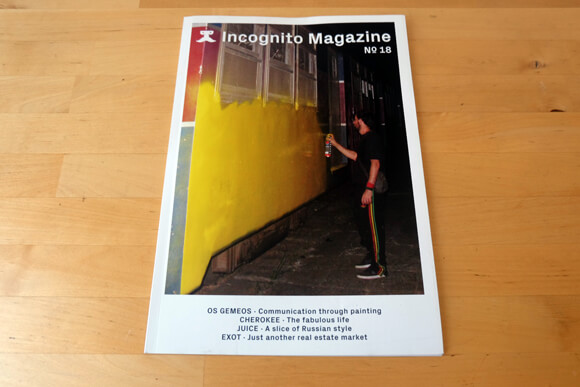 It's not the last issue to date, but even still, Incógnito # 18 deserves a review.
The Swedish magazine is still committed to content related to the most cutting edge, fresh graffiti, and it's something you notice right from the outset in the first few pages, with a varied selection of train pieces from all over the world.
A dark yet fabulous photograph of the Pandolfo brothers in a train hangar with ghettoblaster in hand, launches the most important article in the issue. Popularity and quality go hand in hand in the case of Os Gemeos, who's frenzied activity makes for a great selection of unpublished pieces on different surfaces, alternated with the usual photographs.
A section of throw-ups does this graffiti format the deserved justice it needs, and prepares us for the second dish.
The Australian, Cherokee, who's style is increasingly more extreme, shows us what he's made of with a selection of train cars from across the globe. It's a special feature that contrasts with the Juice dedication; a writer who's more oriented to brick surfaces and executes an extremely interesting style which we could describe as "Vintage Wildstyle".
Walls of diverse formats maintain the style that characterizes the publication, and take us to the last article: Exot. Architecture and expressionist graffiti, to then finish up where we started with "World Wide Trains".
Incognito does it once again, while maintaining the same focus and taste and being able to show a great diversity in graffiti that ranges from the hottest names to those with the most humble reputation.