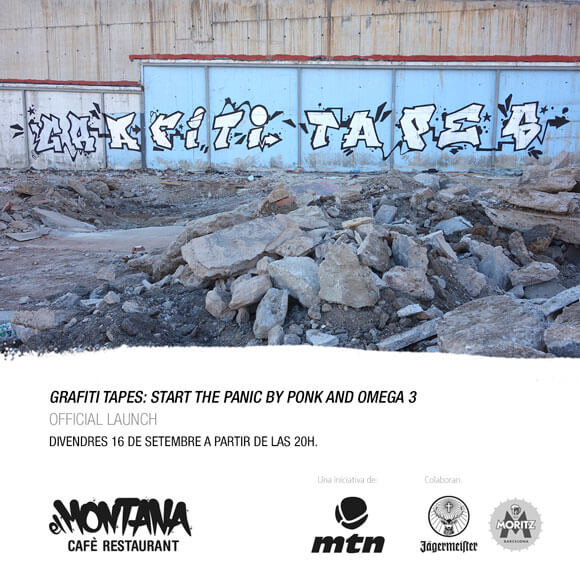 Originally coming from the outskirts of two English cities, Ponk and Omega III quickly established themselves as two creative minds in Barcelona since they arrived to the Catalan capital. Their audiovisual project for 2016, Start The Panic, is a historical celebration of the British foray within the world of hip-hop and graffiti; the embryonic stages of a scene that began to discover its own unique style during the end of the 80s and early 90s.
Graffiti Tapes is a series of cassettes which combines production and mixes by artists linked to graffiti and music. Curated by Berlin based Luca Lozano (Klasse Recordings), the list of participants includes graffiti writers such as Nug, Kropp, Dudes, Seny, 10 Foot, and Uzi. Meanwhile, in the rhythm department we find Osynlig Fetma, Luke Eargoggle, Tapes, Your Planet Is Next, and Plom. Start The Panic is the seventh release and it will be available at the Klasse Recordings online shop, at Montana Shop Barcelona, and at select sales outlets around the world.
The exhibition scheduled for September 16th at El Montana Cafè Restaurant will include album covers, photographs, and drawings by influential artists from the era, complemented by graffiti pieces by Ponk and Omega III that lie contextually within the same framework.
During the event, Ponk and Omega III themselves will be in control of painting the air with their selection of rhythms, and just in case you were having doubts, Moritz beer and Jaegermeister shots will take charge of the rest. Remember that the party starts at the usual hour, 20h. See you there!