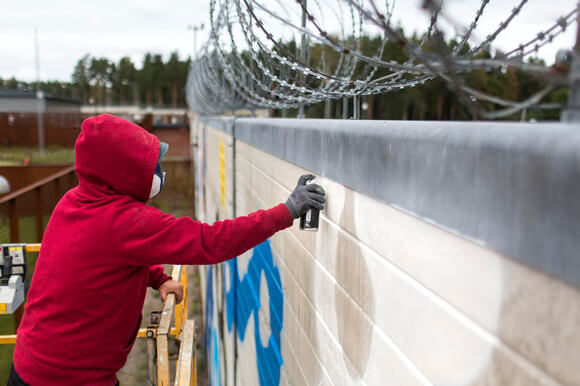 Egs went to prison, but fortunately it wasn't to serve a sentence. The Finnish artist and writer has applied his technique to three murals for the Vantaa prison. This project commissioned by the State Commission for Art of Finland has taken the art of the most charismatic Helsinki writer to "the other side of the wall".
The facility's main entrance, the visitor's hallway, and the exercise yard are the three areas inside the prison grounds that have been decorated with an urban art aesthetic that is true to Egs' style. His calligraphic tradition once again utilizes the deformation of letters to generate abstract images that take on familiar shapes, in a pareidolic game that maintains a strong sense of authorship.
Egs' fascination for maps and geography make sense yet again, in artworks containing symbolism pertaining to the idea of travelling and landscapes.
Avoiding shapes that are linked to cultural symbolism, the writer from Helsinki uses a universal language that evokes the sensation of movement through a pleasing and accessible aesthetic. It's far from becoming a didactic or socially reflective intervention. Here, EGS gives the prisoners of the Vantaa penitentiary his vision of freedom, by means of his own artistic freedom.