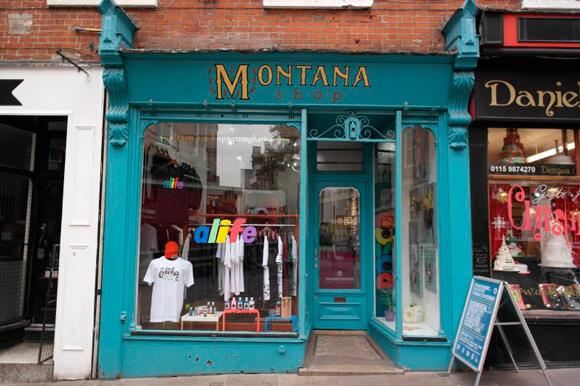 Today we're going to go deep into the background of Montana Shop Nottingham, with a brief review of its history and some other aspects that you surely already know about.
The beginning of this story dates back to 1995, and like all great stories, it starts with a trip.
It was a trip during which Dilk contacted with Kapi, Moockie, and their Barcelona crew. It was the first time that Dilk had used our paint, and being that he was used to English brands, he decided to take a suitcase full of cans back home with him.
After this first trip, there were many others that followed and his friendship with Kapi, Moockie, and Jordi grew stronger until in 2002, Dilk decided to open a graffiti shop called, Coverage. It was the first graffiti shop to exclusively sell Montana Colors in the city. For six years straight, the shop operated out of the Westend Arcade, a kind of mini-mall full of shops, but the space was very small and Dilk decided to go one step further.
The new shop, now a Montana Shop, is located in an emblematic building in the city that used to a herb store built back in 1849, located in Goose Gate, 6. In 2008 the shop was launched and saw the premiere of the first 10 colors from the 94 range.
Today Montana Shop Nottingham is a landmark in the city, providing not only MTN products, but exclusive clothing brands, inks… and they've already got one foot forward in taking the next step in their own history.