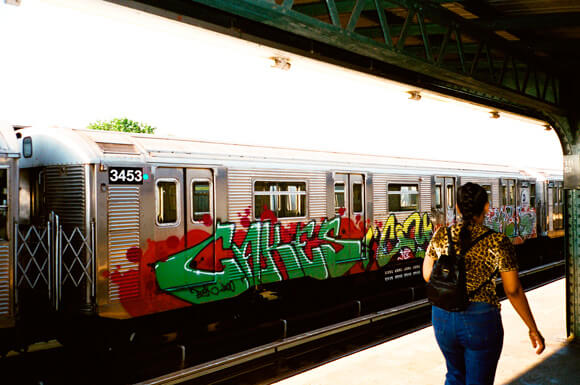 Czech legend Cakes explains to us about the criteria for his "Three Aces" selection: "I chose these three pieces because of the era they represent to me and of course, I like them a little more than the others from that time".
Cakes NYC 2000
We did quite a lot of pieces on the New York subway that summer with my boys Key and Romeo. I like this photo of the end to end with that Portorican ass in the foreground.
I took it in the morning, a few hours after it was painted. It was my birthday. We took the train and went all the way from Brooklyn to Manhattan. We left once two cops got on the train.
Cakes Rio De Janeiro 2005
I spent a good half of the year 2005 in Rio. This is one of last pieces I did there at that time. We painted this spot with Key who came to Rio to visit me. It is in Cerra Corral favela which was pretty dangerous at that time. We went there as part of a social program.
I love to paint simple pieces on walls with no graffiti on them, so I can have the rough wall in the background.
Check the drawing of an AK 47 above my E. It was made by the kids from there. Their every day life.
Cakes Prague 2014
We ran this block called Trafacka for 8 years. On this wall there were a lot of productions and different pieces being painted. This one was the last before the whole place was town down.
I love to paint big from time to time. This was a good occasion and the spot represents a lot of history to me. In the window where the arrow from the S points, is where was my little office and later on, my painting storage was.