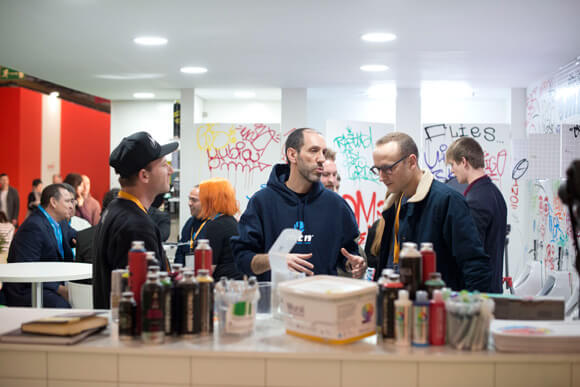 For a few years now Montana Colors' presence at the Creative World Fair in Frankfurt has been characterized by the conceptual originality of our stands. Transforming a corporative space into a new dimension is a striking way to suggest the possible uses for the MTN products, while in the same stride, representing the creative spirit that is championed by our brand. For Creative World 2017 our firm presented a risky yet fun proposal that didn't leave anyone unscathed.
Why a bathroom?
Restrooms are the most intimate public spaces that exist in our society and coincidentally, it's in them where the most spontaneous, visceral graffiti is carried out. It's not just tags by writers that take over the toilet doors, they are also filled with love messages, politics, or simply signatures by anonymous people that frequently appear etched into the surface with any sort of utensil that serves as a writing tool.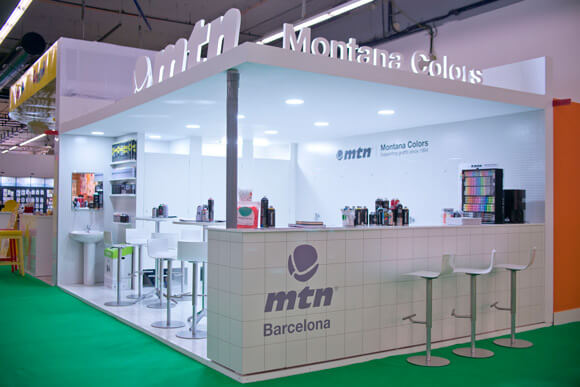 It could be said that a bathroom is a place in which instinctive human creativity occurs, manifested as the most basic form of graffiti. In fact, this ancestral practice goes back to the latrines of the ancient Roman Empire where inscriptions precisely gave rise to the word "graffiti".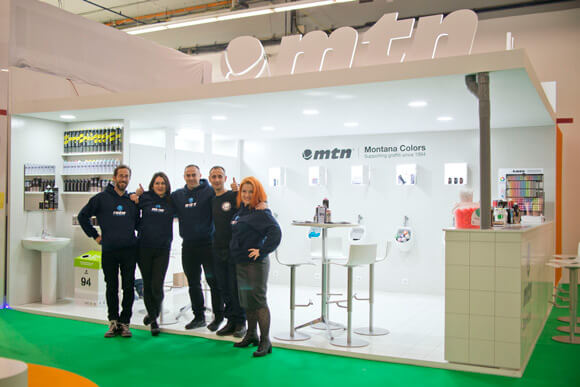 With an unusual appearance that also offered visitors the chance to leave their name on the wall, Montana Colors has once again surprised visitors with a space that served as a meeting point for distributors, clients, friends and curious onlookers. It was an unforgettable four day experience that gives us strength to keep giving it our all in demonstrating the results of our hard work and particular way of doing things.