An intriguing photograph by Edward Nightingale gives us a warm welcome to number 17 of the quintessential magazine about graffiti on metros: EGOWAR.
To break the chain, the issue doesn't make note of the variety contained on its pages on the cover, which leads you to believe that it will be packed with content. What it means is that the articles are going to be extensive.
The Berlin's yellow submarine headlines the first pages. The local, Abis and the Australian, Cherokee are there as usual. Moer unveils a double-paged one man wholecar that was being hidden from the Internet. We pass over to Copenhagen quickly with three pages on which Week takes almost all the protagonism. Cherokee pops up once again.
More yellow cars appear next but it's because the feature dedicated to Cosak has begun. The Ghettoblaster lets it be clearly known that the train systems in the north of Germany hold no secrets from him.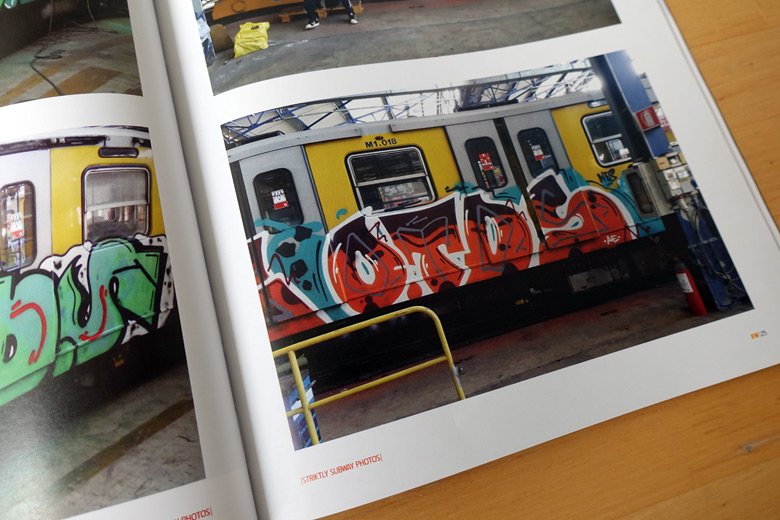 Up next is a bombardment that's even harsher than that of the Hamburg writer – 17 pages dedicated to the OTDS crew. Their undisputed reign in Naples is accompanied by different pieces on metros from all over Europe, including Barcelona and Madrid.
Artistic photography comes this time courtesy of Peter Stelzig, an action and production photographer who takes a moment to speak about his upcoming book "Graffiti Photographers United". The lengthy article is easy to take in because of its varied content.
A mandatory stop in Stockholm leads up to a happy ending in Athens and London where Rumba leaves you with a few gifts.
Easy to summarize but slow to examine, this is the 17th issue of Egowar. It may not be the best one, but it still remains essential.