All of you know that Montana Colors always releases a official calendar which in every issue is built around a different concept from the last one. For 2018 we have wanted to go back and show our commitment to urban art and graffiti through a selection of interesting pieces and projects which, thanks to our products and the great talents of these artists, has been created around the world during 2017.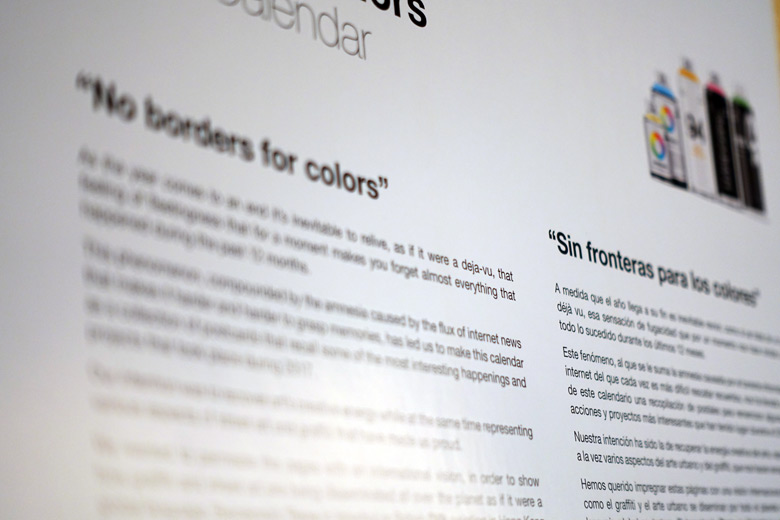 "No borders for colors"
As the year comes to an end it's inevitable to relive, as if it were a deja-vu, that feeling of fleetingness that for a moment makes you forget almost everything that happened during the past 12 months.
This phenomenon, compounded by the amnesia caused by the flux of internet news that makes it harder and harder to grasp memories, has led us to make this calendar as a collection of postcards that recall some of the most interesting happenings and projects that took place during 2017.
Our intention was to recover art's creative energy while at the same time representing various aspects of street art and graffiti that have made us proud.
We wanted to permeate the pages with an international vision, in order to show how graffiti and street art are being disseminated all over the planet as if it were a global language. Barcelona's Treze in Istanbul or British Dilk painting in Hong Kong personify this intercultural message.
However, the creative power of colors is unlimited, and there is not just one language or specific medium. That's what the Columbians Ceroker and Mugre Diamante demonstrated with their war helicopter painted with a peace message, or Bordalo II with his sculptural painting that protests against human's impact on the environment.
To keep to our commitment with the most clandestine of graffiti, we've included two train pieces that represent the two extremes in style variety that can be found on this par excellence writing surface: Brus, who represents the stylistic exquisiteness of classic wildstyle with a masterful execution, and Ale, who leads in graffiti's vanguard during the writer's most experimental and conceptual phase, utilizing innovative products such as MTN MadMaxxx.
In relation to this product, a shot by Edward Nightingale portrays the furtive feeling of train graffiti, thus including photography within the constellation of artistic techniques of street art.
Team work, mutual help between individuals and the compatibility of different personalities are aspects that we also wanted to reflect with interventions where several artist worked together. That was the case with Aryz and Os Gemeos in Munich, with 123Klan, Slick and a cameo appearance by Vyal, and with the impressive collaboration between Shepard Fairey and Vhils in Lisbon.
The Greek writer Insane51 together with the German, Semor, also represent this communion between artists and styles and guide us towards the last characteristic: overcoming. Taking technique to a higher level demonstrates that "not everything is already invented", a premise that was shared by Reskate Studio whose intervention, thanks to photoluminescent paint transforms with light, served as a closer to the calendar where night and day go hand in hand; because the end is always the beginning to something new.
We reserved the calendar covers for PichiAvo and the piece they painted in the stairwell at Montana Basics; our research, innovation and production plant.
The Valencians' work is proof of graffiti's artistic potential and highlights
the commitment to arts which engulfs the nature of Montana Colors to its very core.
Far from accounting for a complete summary of the year, these 12 images are a synthesis of the most important values transmitted by the creative realm to which Montana Colors forms a part of, and that is well worth preserving no matter how many years go by.