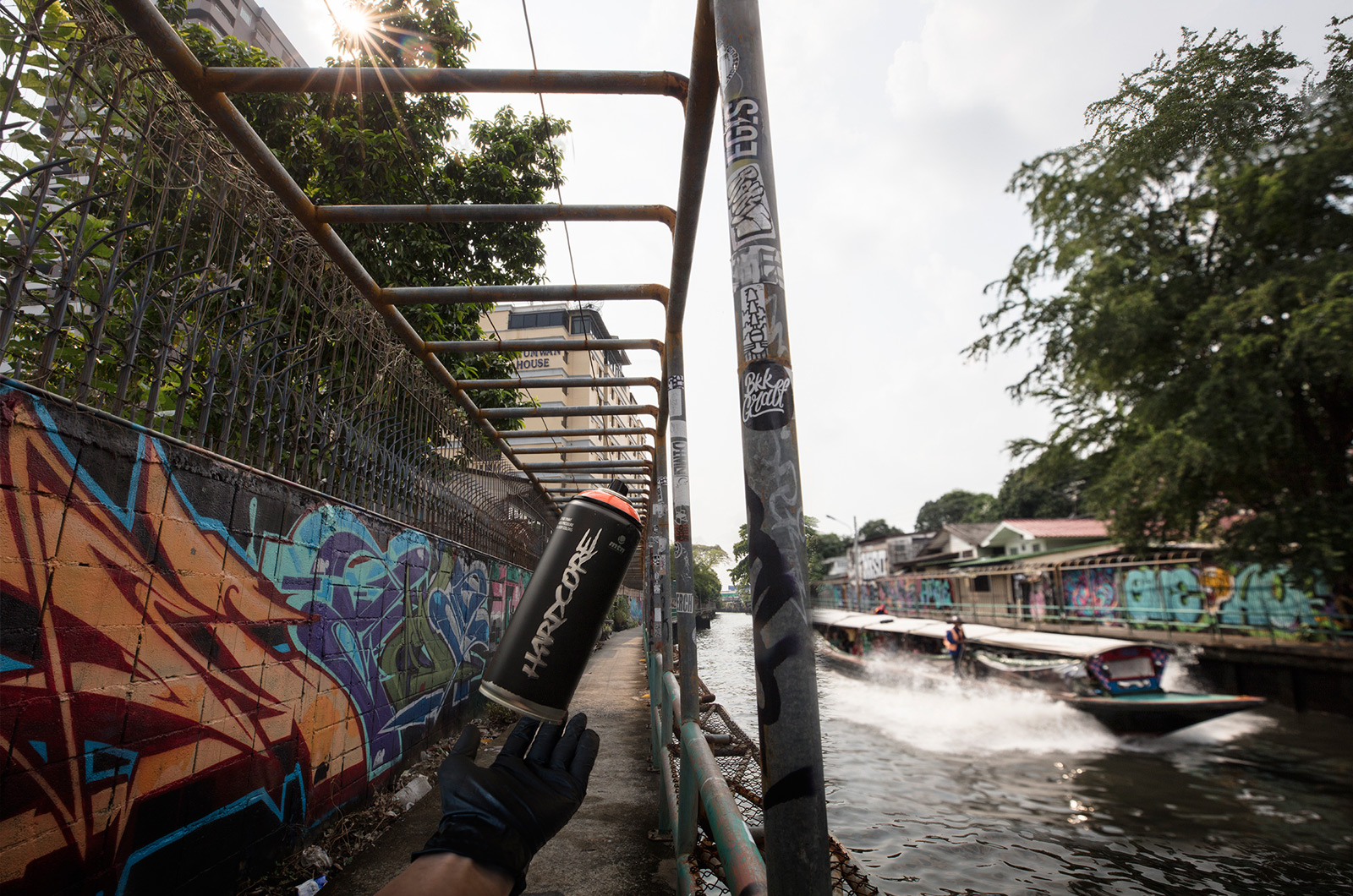 The project being carried out on our official Instagram account, the MTN IG Residency, has continued on route through the scenes of two new cities thanks to the official Montana Colors shops.
During each day of the previous two weeks, Donut Store aka Montana Shop Istanbul and BKK Graff aka Montana Shop Bangkok showed us there respective establishments as well as a small part of their local scenes.
So here it is. We've brought you the complete compilation of all the posted images and their corresponding explanations. Stay tuned for the next IG Residencies!
Seven days with BKK Graff (Montana Shop Bangkok)
Welcome to Montana Shop Bangkok. We're located on the 3rd Floor of Bangkok Art and Culture Center. It's in the heart of Bangkok.
 
Hello my name is "Montana" Thai Font.

สวัสดี

ฉันชื่อ

มอนทาน่า

. Don't forget to bring your sticker and put it on the wall in Montana Shop Bangkok.


MTN94 Fat Cap toy in Montana Shop Bangkok.


Come visiting us in Bangkok. Montana Shop Bangkok provides MTNcolors spray paint to fulfill you holidays in Thailand!


Traveling through Bangkok by local boat along Saan Saeb Canal is a good way to avoid Bangkok's traffic problem. The closest pier is only 5 mins walk from Montana Shop Bangkok. Enjoy your journey with many graffiti pieces. 🙂


Only one station by train from Montana Shop Bangkok. Near PhayaThai station, there's a whole abandoned building with the most popular Thai street food "Phad Thai" stir fried noodle with egg and shrimp.


MTN94 can on the beach in the South of Thailand. There're a lot of small Islands where's well known of their beautiful beaches. If anyone have a chance to visit the Islands and want some paints. Our dealer in Phuket is waiting for you to visit.


Seven days with Donut Store (Montana Shop Istanbul)
We have recently celebrated the 10th anniversary of Donut Store, the Montana Shop Istanbul in Turkey. For the occasion we have collaborated with 10 artists to create a collection of 10 limited edition posters. We are so thankful to those who supported us and made this crazy story possible. This is just the beginning! @donutistanbul #donut10years  #MontanaShopIstanbul

KRIPOE is one of the writers who considerably influenced the Graffiti scene in Istanbul! In 2008-2009 the Berlin based artist changed the whole game within a few months. The yellow fist and the eye were everywhere. You couldn't deny! KRIPOE grew up in Kreuzberg and was mainly influenced by the generation of Turkish-German writers of the City.  Attracted by the Mediterranean Culture he decided to live in Istanbul and shared his embossed Art. Each one teach one! I saw you! You saw me! He is the pioneer of shutter paintings. Today the whole area of Karaköy – Galata has no single shutter left! Every evening this area transforms into a huge street exhibition.

KEEP THE BOMBINGS CLEAN! 10 years ago writers were still perceived as satanists or political activists and therefore it was really delicate to paint in the streets. As of today, the city is much more tolerant to the concept of grafitti and this funny scene illustrates it very well – Employees of the municipality of Istanbul are sticking off ad posters but not buffing the bombings underneath! @leolunatic @theistrockin @mrhure

Since 2012 @muralistanbul Festival rapidly became the main attraction of Istanbul, especially for street art lovers. Until now we welcomed amazing international artists such as INTI, RUSTAM QBIC, DEIH, ARYZ, FINTAN MAGEE, JAZ, DOME, PIXEL PANCHO, M-CITY… Their murals are on 30+ walls in Istanbul.  A must see if you come to our city. #muralistanbul

Istanbul's iconic Haydarpaşa Train Station is located in Kadıköy, at the Asian side of the city. Over a century the yard was a major hub of transport but has been closed in 2013 for restoration. Here are some action shots in this huge playground from the photographer @ozkanonal with #TFBcrew #WSON & @tabonefivesix  The station is expected to reopen current of 2019.

BUENO & OSTIK @ghostik34 from TURCO crew are the new generation of street bombers very active in the streets of Istanbul. Here are some of their roll ups and bombing.

Marmaray is the undersea metro line of Istanbul connecting Europe to Asia. Inaugurated in 2013, Marmaray has 4 stations passing under the detroit of Bosporus! RUKUS @cokefendicocuk from OHB crew became a good technician of this futuristic metro line.