Panama Mural Fest, an initiative that meet expectations and fills the center of Panama with color.
---
From May 20th to 26th, the Panama Mural Fest was held in Panama City. In spite of the scarce government aid and means available, some thirty national and international artists found a way to leave their mark in the Panamanian city in the San Felipe, El Chorrillo and Santa Ana neighborhoods, where the color on the walls brought back memories to better times in the past.
The creators of the festival were the writers, Disem and Dreps. United States born Disem of Panamanian origin, was the one who thought out the event with the intention to not only decorate buildings, (those that are not under the jurisdiction of the country's heritage department), but also to participate in a cultural exchange between artists and neighbors of the area. Dreps, who with his pragmatism and efficiency in solving problems helped to smooth over any bumps that appeared in a festival of that magnitude.
Under the suffocating heat, crushing humidity and occasional torrential rainfall, the streets of San Felipe, Santa Ana and El Chorrillo, where the most touristic side of Panama coexists with the people from the most humble neighborhood, were filled with pieces and murals. Some of them were the result of direct dialogue with the neighbors from the area.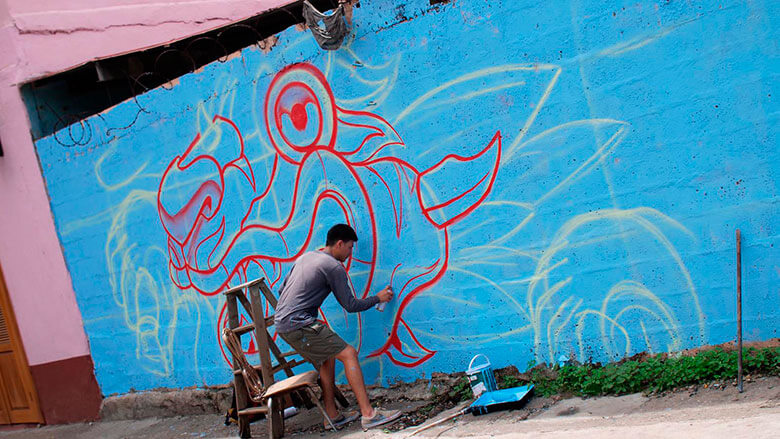 Some of the buildings were abandoned despite the fact that they housed entire families. In certain areas, the severe precariousness that could be felt was mitigated by the warmth of the neighbors who, despite their economic shortcomings, didn't hesitate to share what they had with the people who were filling their surroundings with color.
Ahol, Madmagoz, Dreps, Disem, Harrybones, Hoacs, Insano, Don Rimx, Eskae, Primo, Magma, JB Saval, Soten, Tragek, Cerok, Too Fly, Evade, Sinless, Temyn, Musa71, Rolo De Sedas, Caso 3, Balan, Amir Lucky and Krow were the artists invited to the festival.
Photos: Greg Pistol & Miquel A. Tejedo