Eskae is currently one of the most prolific writers on the east coast. The writer from Florida florida brings a solid wildstyle which extends from the walls of Miami to freight trains that run throughout North America. His experience allows him to execute masterpieces with total ease, a quality that has led him to team up with writers with similar skills.
Despite his seniority, Eskae is in top form and his influence on the east coast scene is indisputable.  That is why SprayPlanet USA has decided that his testimony as a source of information is of great value, and therefore has made this interview that we present below.
---
"545 came from the pick-up artist community."
He is a component of the STV, WH, KBT and 4S groups, and Eskae's beginnings in the world of graffiti date back to 1989. But it was not until 2007 that he began to use the name he is known for today. A new alias forced to be used due to legal issues, and whose name responds to the pronunciation of the acronym SK, two letters that he got up a lot during his most obsessive bombing days. On the other hand, the numerical part of his name has to do with a curious challenge in the game of seduction.  It seems like if the elegance of his style transcends from the facet of his letters.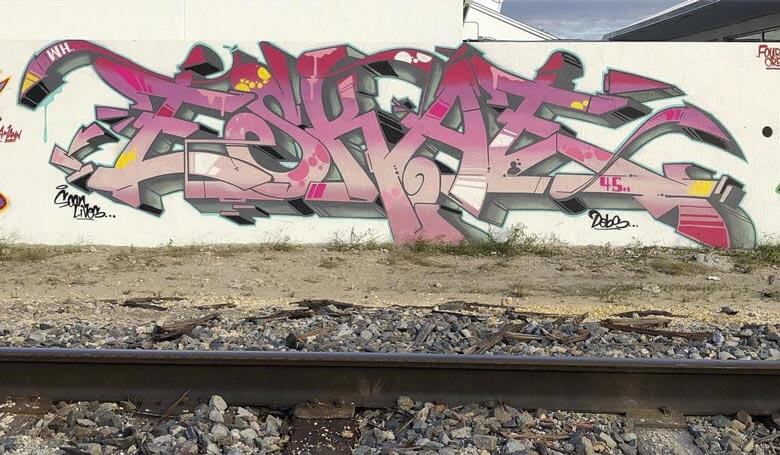 "the first few times I wrote on anything it was more gang related"
Before getting down with the graffiti culture, Eskae's first inscriptions on the walls were more related to the theme of the bands, basically because of a question of friendships. Over time, bombing became his favorite discipline, a character of it all that is reflected in his current activity, and that leads him to paint several times a week.
"I am pretty much writing on something daily. I am usually painting at least a couple of pieces every week." 
In addition to the S and the K, as we can imagine, the R is also part of his favorite letters.  An aesthetic taste that is complemented by an inclination for the contrast of colors: yellow, light blue, pink … contoured with dark colors. Although if at present he uses this effect by using clear strokes and gloomy fillings.
"This is something I will do forever. It's proof I existed"
Eskae talks about the tremendous importance that graffiti has had in his life. Something that, metaphorically, is reflected in his more important pieces and in the attitude he presents: "This is something I will do forever. It's proof I existed".