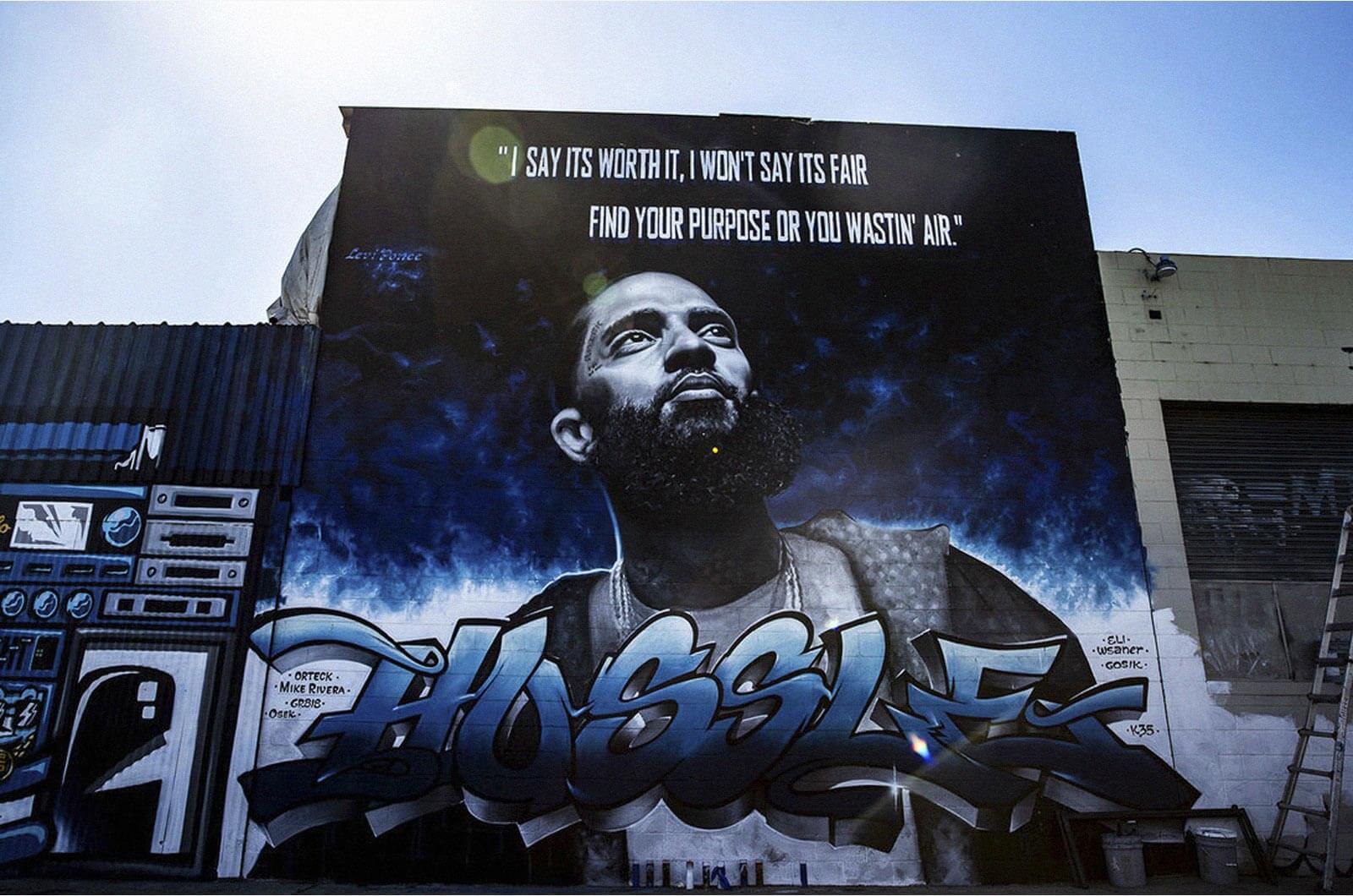 Half a year after the rapper's death, his image has become synonymous with color on the streets of Los Angeles thanks to the work of many mural artists.
---
Pictures by Marcos Ruiz Lopez
On March 31st, Nipsey Hussle was shot dead in his store, Marathon Clothing. It was a dramatic outcome to what the police have described as a personal dispute in which two other men were injured. In relation to the incident, Eric Holder, who is also a rapper, was found not guilty on one count of murder and two counts of attempted murder.
Given the importance of Hussle's figure which transcended his musical reputation, his death had an almost immediate impact on the streets of Los Angeles. Murals automatically began to appear in homage to the rapper; this type of tribute corresponds to a custom in American cities, combining muralist tradition, graffiti creativity and hip-hop stars' social impact.
A rapper, entrepreneur and activist, Hussle emerged on the West Coast rap scene in the mid-2000s, receiving great recognition for his numerous mixtapes. However, it was his social involvement that made him a commendable icon. In addition to denouncing armed gang violence through his music, Nipsey financed improvements in neighborhood schools and spent time with students, participating in debates about the influence of gang culture. Despite his work to end the deadly rivalry against the Bloods, it may have been precisely his affiliation to the Rollin' 60s Crips gang and the violence surrounding him that precipitated such a tragic end.
Artists like Bobby Z. Rodriguez, Enkone, Vanessa Prado and Samir "Evos" Arghandwall have captured Nipsey Hussle's image on walls that are usually provided by local businesses. Some of the works commemorating Hussle's legacy that fill the streets with color have become tourist attractions for the deceased rapper's followers.
This phenomenon, which was particularly prolific in this case due to the protagonist's social impact, is a sign of a collective sentiment that manifests the mutation of art: a music artist becomes the source of inspiration for other artists in a completely different medium. Death is the conduit that connects different forms of expression and at the same time gives us an opportunity for contemplation but also for reflection.