THE SAME AS WHEN WE BEGAN
The mythical Hardcore design returns to the shelves of stores, workshops, your home and, most likely, police stations. This is the final nod to Montana Colors' 25 year; a presentation that will be available on a limited basis and only in the Hardcore colorways of Electric Blue, Light Yellow, White, Black, Silver and Vivid Red.
Pictures by Clara Antón, piece by Iber KRN.
---
Remembering where we come from is always a noble exercise in humility. But it's also a nostalgic way to relive great moments from the past. Part of that emotion lies in the cyclical nature of fashion and aesthetics; when something is no longer in style, there will come a time when it regains its value and its anachronistic image turns into a historical icon, rescuing it from oblivion.
This phenomenon is what has led us to reclaim the aesthetics of the classic Hardcore cans, as a final tribute to 25 years of Montana Colors. A universal design that we've never stopped to decipher, despite it forming part of graffiti's history, identifying as the most charismatic spray can in the world.
Jordi Rubio, founder of Montana Colors, offers us his own interpretation of its meaning:
"The logo — the ball — is like a ray of light breaking the norms represented by the white grid, which is reminiscent of a fence trapping a black universe (K). The three organic pieces of the sphere are comprised of cyan, magenta and yellow (CMY) fit perfectly within the particular dynamism that appears to be expanding or contracting."
In 2020 the Hardcore colors Electric Blue, Light Yellow, White, Black, Silver and Vivid Red will come packaged in this nostalgic presentation, incorporating all of the advances of the current Hardcore formula. We're certain that this special edition will stir the memories of many writers worldwide. It will also serve to remind us how Montana Colors went against the mainstream and bet on a culture that, at the time, was only receiving attention in the form of criticism; and how, despite our evolution and the passing of years, our attitude has remained the same since day one.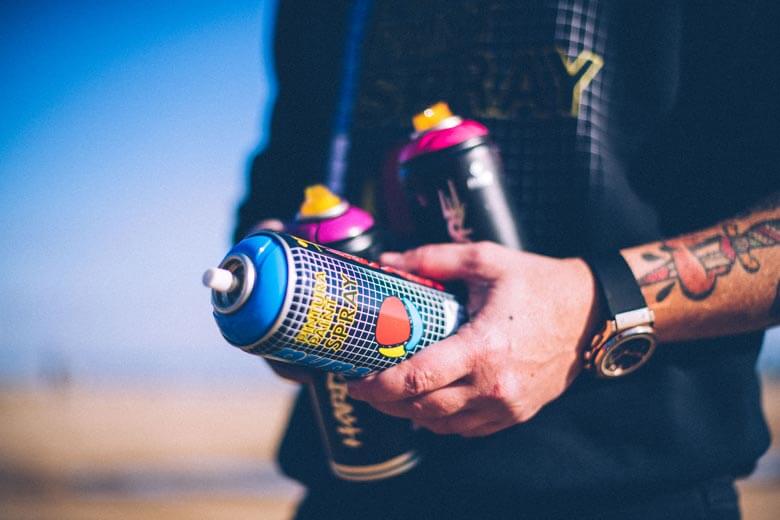 Since we also believe that clothing is a means by which style and personality are projected, we've decided to accompany this special launch with a t-shirt and a matching sweatshirt. Decorated with the infamous classic Hardcore design, these garments will become a code amongst all those who are nostalgic for a time when graffiti wasn't trendy.