What does graffiti have in common with the creation of stained glass? This art form, interesting in itself, takes on new dimensions in the hands of Annahita Hessami. This is because in many of her works we can see the direct influence of graffiti and the inclusion of aesthetics that are closely linked to this culture. In many cases, she reproduces the styles of certain internationally renowned urban artists. On her Instagram page we can find stained glass windows that emulate the aesthetics of writers and street artists such as Musa71, Fanakapan and Insa.
It's very interesting to see how an ancestral art form merges with contemporary aesthetics, creating enchantingly dazzling results.
-Who is Annahita Hessami?
I was born in Iran toward the end of the revolution, when sanctions were lifted my family came back to the UK. I am 35 years old and have been making stained glass for almost 13 years now. I started my creative life off in the fashion industry, moved into surface design and print then was offered a job in stained glass studio in 2007 after leaving university.
-How did you discover this art form, and how did you decide to devote yourself to it?
I discovered that stained glass was still a practised craft when a gentleman came out to repair and replace some damaged windows in my family home. My mother insisted I work with the glass artist to create a suitable design and colour palette for the house. At the end of the process he offered me a job as an apprentice. I worked in this studio for almost four years learning the craft and building relationships with other local companies eventually branching out, freelancing and then starting up on my own.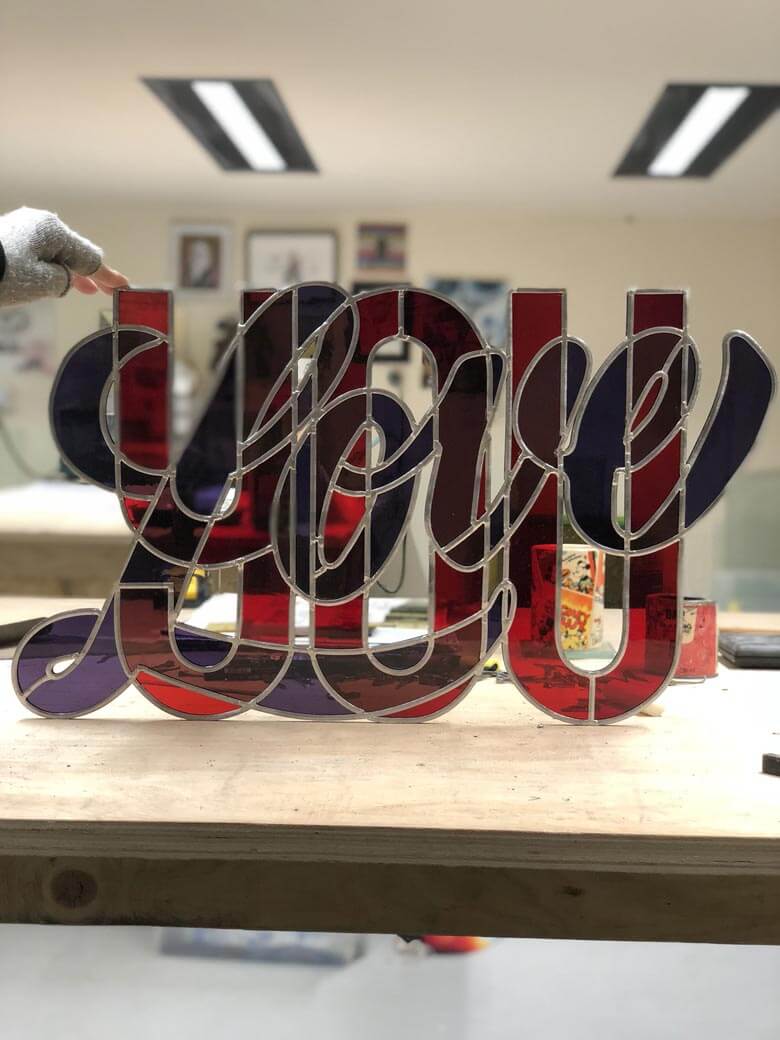 Collaboration with Ryan Mills
Collaboration with Leimai Lemaow
-Could you briefly explain the process of making your stained glasses?
The process of making a stained glass window starts with a design we call a cartoon. This is then scaled up to the full making size of the window. This is called a cut line. This is a technical drawing that you cut all your glass on and then lead the window on. Once you have leaded the panel you solder each joint flip it over and repeat. Once soldering is complete the panel has one final stage we call cementing or weatherproofing. This seals the window and dries solid to give the panel rigidity and strength. 
-Do your creations have a practical use?
Yes all stained glass if made and finished correctly has a practical purpose/use as a decorative window architecturally.
-How do you choose the designs for your pieces?
With most bespoke projects I take a few pointers from the customer and then design from my mind. I try not to use any outside influence unless I am really struggling with a suggested brief.
-We see a very strong influence of graffiti in some of the pieces you made… where does it come from?
I grew up during the 90's and got very much into the Jungle, drum and bass and Hip Hop scene. This opened my eyes to a whole new culture including graffiti, fashion and dance. All of the work I have produced in this style has been through collaborating with different writers and street artists. This stemmed from opening an Instagram, promoting my work and supporting artists I admire.
Collaboration with Cave, "I was the sand you were the desert "
Collaboration with Insa
-Graffiti and stained glass are two opposing creative worlds…from your point of view, how are they related?
Initially stained glass was brought to the masses in religious settings illustrating the bible for those who could not read. The first wall drawings/markings originated thousands of years ago in caves, graffiti I think started in the US in the 1960's then became popular after hitting New York in the 70's. Both forms of art were used to relay a message, graffiti mostly for claiming territory. Even so I feel they are both forms of public art that evoke a response from the viewer.
-What role do you think your work plays, since it is situated between these two separate universes?
I have never considered the role my work plays as such, for me it is about exploring forms of art that interest me and pushing my skill set.
Collaboration with Tarwane
Collaboration with Shucks One
– With these types of works, what kind of audience do you attract more? Graffiti or more traditional?
Within my business we mostly produce traditional style windows for domestic settings, the collaborations i undertake i do my best to fit in alongside the 'bread and butter' to keep my mind stimulated and ever learning.
-When we see stained glass windows we can't help thinking of churches. Is there a religious or metaphysical element to your work?
I am not religious and never consider putting religious based themes into my work, it is all purely for quality, style and aesthetic.
Collaboration with Musa71
-Have you had anything unlucky happened to you with any pieces? Is it easy for pieces to break before they are finished?
Every new window is a challenge. There have been many occasions that iI have broken windows in the process of making them sometimes by dropping tools on them by accident or once finishing a panel breaking it by moving it badly. Glass is a very strong substrate but if it is not respected or handled carefully it will break! I try to take it all as learning and part of being a crafts person. It is going to happen someday, it simply cannot be avoided.