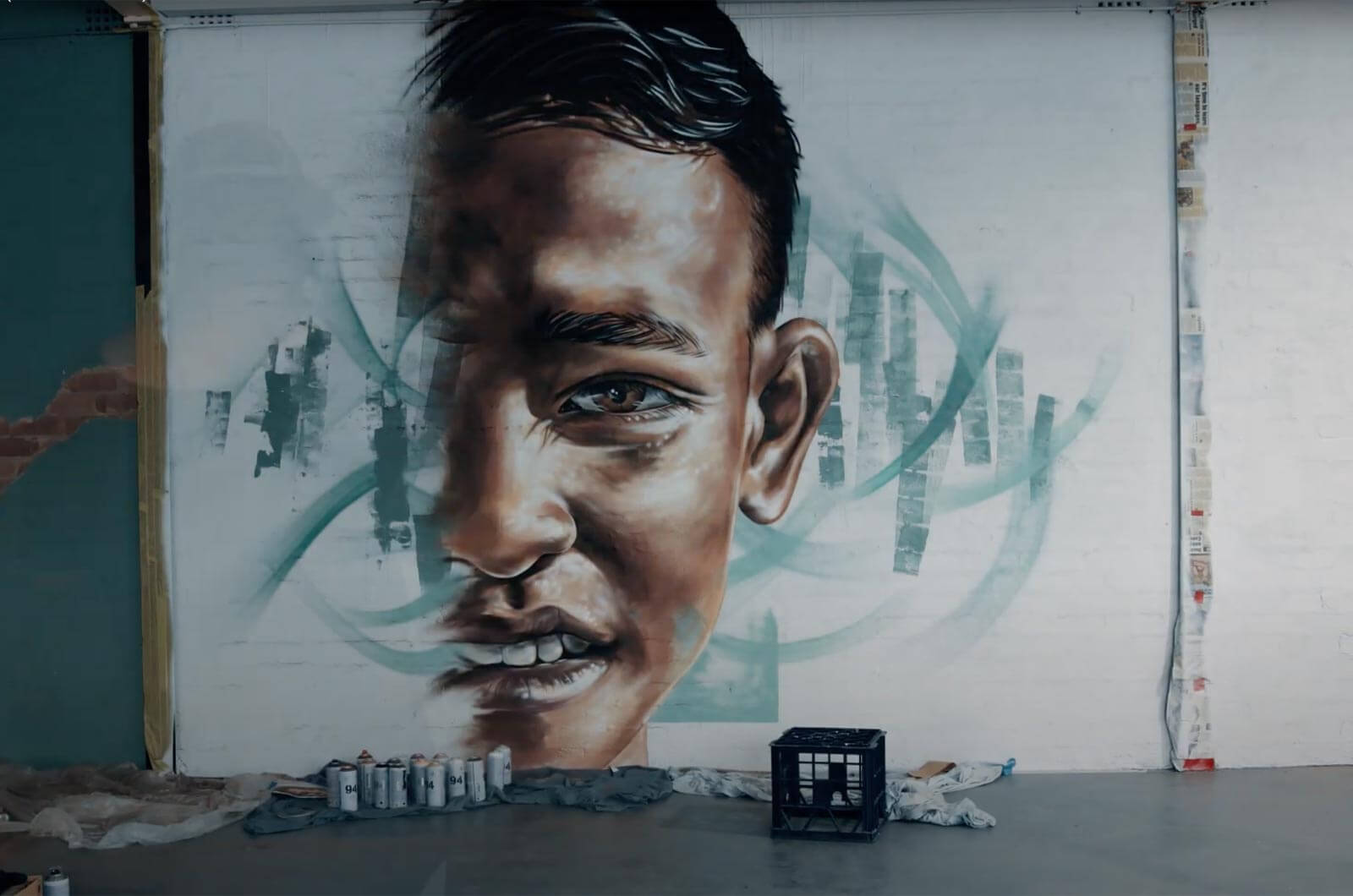 This week our compadres from Montana Colors Australia wanted to interview an artist who specializes in hyper-realism. This is Reubszz, who manages to give his portraits a unique personality, despite basing his style on photographic reproduction.
---
What got you started in graffiti/street art? Was there a particular artist/person who motivated you to start or inspired you to pick up a can?
I kind of fell into it. I have been a painter all my life using acrylics and oils and someone asked me if I wanted to paint at a small festival. I knew there were going to be a lot of writers there so I started painting walls and instantly fell in love with the medium:  painting large and the interesting places and situations you find yourself in.
What's your favourite style? What do you like to do the most, and what is the most challenging style for you so far?
It would probably have to be surrealism or realism. They are definitely what I find most challenging. The progression within them is like no other.
Are you painting for pleasure, or do you have a purpose or goal that you hope to achieve with your art?
I'm always painting for pleasure. It's what I've done for years without the thought of trying to pursue it as a career. I want to paint much larger scale works and to explore and portray my own ideas rather than commercial pieces.
How often do you find yourself painting, and what is the most enjoyable subject matter for you to paint?
I paint everyday — whether it's a job or my own personal work, I'm kind of always making something. People, hands, clothes are most enjoyable for me, something that is derived from my own photographs.
Are there any artists you are keeping an eye on right now?
So many amazing artists! I really like Vesod, an Italian artist, his work is crazy. I really like Case Maclaim's work as well. Seeing his work in real life changed the way I look at skin tones forever.
If you could paint with any artist right now, who would you want to team up with?
That's a tough one. There are too many…if I'm painting with someone, I like to explore and play around rather than being too regimented. You can learn something from everyone.
In your opinion, what artists do you think are killing it at the moment?
Drew Merritt is always making amazing work. Mr G from New Zealand is always killing it. Askew, Tito Ferrara, David Rice…anyone who is pumping out their own work at a high level gets me hyped.
What's your favourite surface to paint?
Pretty much anything. That's the beauty of aerosol. I kinda like run-down, corrugated iron and leaving some of the rust and decay coming through.
What's your favourite/most used cap?
Favourite cap is the Orange Astros. I pretty much jump between those skinny pros and New York's.
If you could choose only one colour palette – which colours would you use?
Probably blues or teals.
What is your perfect painting day? What was your worst painting experience?
Painting something I want to make — just painting work for the sake of making it. I was painting in an abandoned spot and got startled when I was picking up a tin and ended up splitting my head on a box sticking out of the wall, which needed a few stitches.
If you had one choice of paint, MTN 94 / MEGA / Hardcore / Water Based – which would you choose?
94s, all day. Such a dynamic colour range, and I know most of the colour names that I'd need for what I have to make.
If you could choose anywhere to paint, where would you go?
Probably some of the abandoned villas in the Greek islands, there are so many.
What was your favourite piece/art done so far?
On a wall, it would probably be the hands one I did recently. Canvas work would be the aerosol portraits I've been making recently.
Lastly, What soundtracks you got bopping while you paint? Can you list 5 tracks to share with the MTN family?
In the air – L.A.B
Next phase – Sub Tribe
Good News – Mac Miller
Green Bottles – Six60
Get Down – Craig Mack