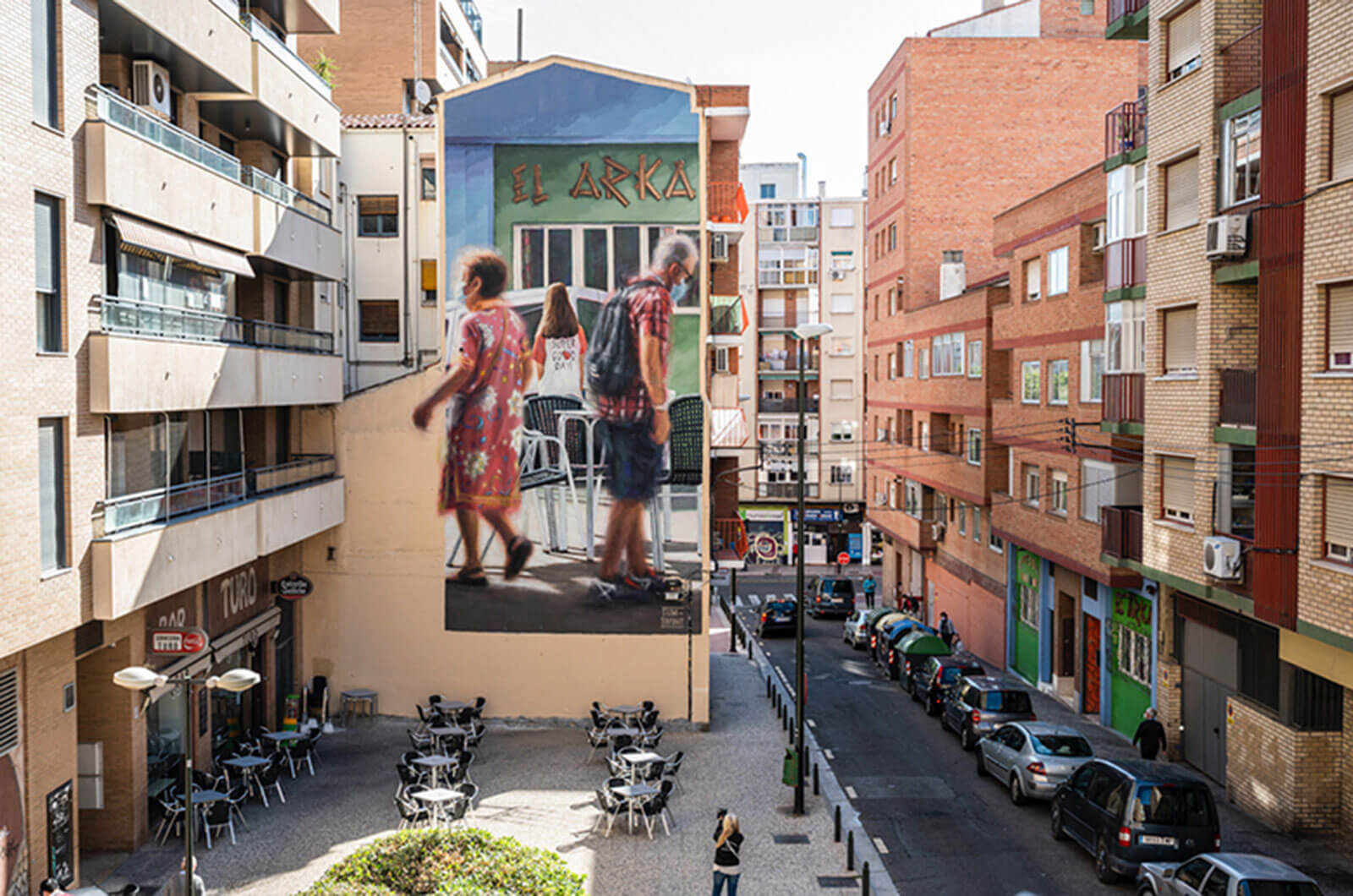 Spain's most prestigious mural festival took place last month in the capital of Aragon, celebrating a decade and a half of large-scale public art with a line up of exceptional artists from Spain and Portugal.

---
The particularly determined team behind Festival Asalto battled against the far from favourable conditions prevalent in 2020 to organise an eye-opening art event in Zaragoza, representing brilliant spraycan art, sensitive muralism, experimental architecture, micro sculpture field photography and graphic embroidery.
Based around the San José neighbourhood with the Zaragozana Ambar beer factory as the base for the artists and final stop for guided tours, the 2020 edition was notable for the interaction with the residents of the area, who took part in online talks with the artists leading up to the week-long creation process.
The event is best known for the impressive array of murals that are painted on fresh walls for each edition, and this years' selection was no exception. Lisbon artist Aka Corleone painted a rare abstract portrait of his girlfriend, bursting with the color and form that he has mastered, whilst relative newcomer Diego Vicente completed a proficient and perfectly positioned floral mural which was just as powerful.
Lidia Cao, a Galician artist who had just participated in the female-only Delas Fest, produced a touching image of an embrace, in tune with her contemporary sensations of affection.
Impressionism came from emerging Catalan painter Slim Safont, who reproduced a scene from the same square where his work can be found, and Marta Lapeña added a still life of objects related to traditional industry in Sant José.
The Portuguese artesan Aheneah included locals in the production of her crochet-based creation, and the Madrid design team Sawu Studio erected a cylindrical wooden structure that played with concepts of color, light and shadow.
Karto Gimeno is the veteran photographer representing Zaragoza, who delved into street art for the first time with large-format photographs of emblematic architecture mounted in various locations. A keen eye is necessary to spot the figures of Isaac Cordal who perch on elevated ledges around town. Elbi Elem also offered sculpture, in the form of geometric shapes in a water feature in La Granja Park.
Pictures by Marcos Cebrian and Luis Cuartero.