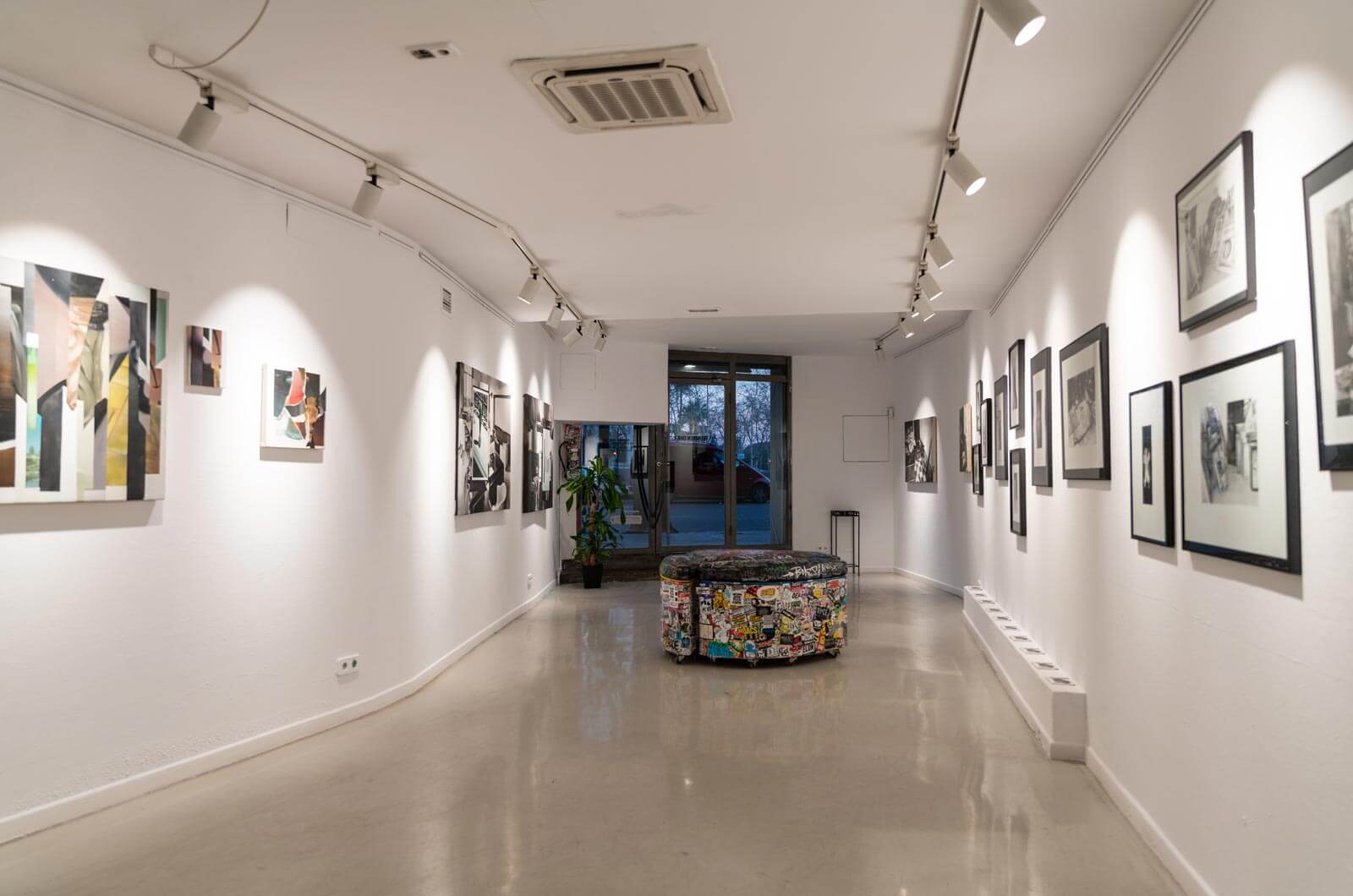 Last Thursday, the Montana Gallery Barcelona opened "Terreno en obras" – an exhibition by Alicante artist Alex Gambín that is showing at the Montana Colors exhibition space until March 20.
---
Born in 1996, Alex Gambín uses the visual dialogue of a witness, using a hallmark naturalistic and melancholic style that provokes a reflective reaction in the viewer. The absence of color and use of suggestive textures are crucial in this exposition, which occupies the space between mural painting and studio practice. "Terreno en obras" brings together different pieces from various projects with the aim of generating a new reaction.
Alex presents paint collages of symbolic scrap paper collage in addition to monochrome paintings on canvas, with a technique bordering on photorealism. However, it is his prolific production of charcoal drawings that is the defining feature of "Terreno en obras." The show also features an almost religious intervention occupying a whole wall at the gallery, recalling his background as a mural artist and demonstrating his versatility.
"These times are quite strange to curate exhibitions. Everything is restricted, and the calendar is constantly changing: Alex's exhibition was actually scheduled for last year, but in the end it's not been possible until now. The selection of this particular artist varies a little with respect to what we usually exhibit and contrasts with the previous exhibition which focused on abstraction.
We've chosen Alex Gambín because on the one hand he fits the line of the gallery perfectly, since we try to push new talents and support young artists. What's more, he's a person that I've been following for a long time, despite the fact that he is a very young artist, who also came recommended by a tutor of his at the Universitat Politècnica de València. I found it interesting to show his work because of the very different personal vision that he offers and his incredible technique. It's true that at the beginning, he wanted to show a series of darker works related to horror, but I persuaded him to change his plans, avoid the more dramatic content, and he adapted perfectly."
The opening of the show was a private and measured event, with respect for current restrictions to ensure the wellbeing of the visitors, but you can listen to an interview with Alex recorded live at the gallery via the player below. The podcast also includes an audioguide of the exhibition, designed to accompany visits to the Montana Gallery Barcelona, but equally as interesting wherever you might listen to it.