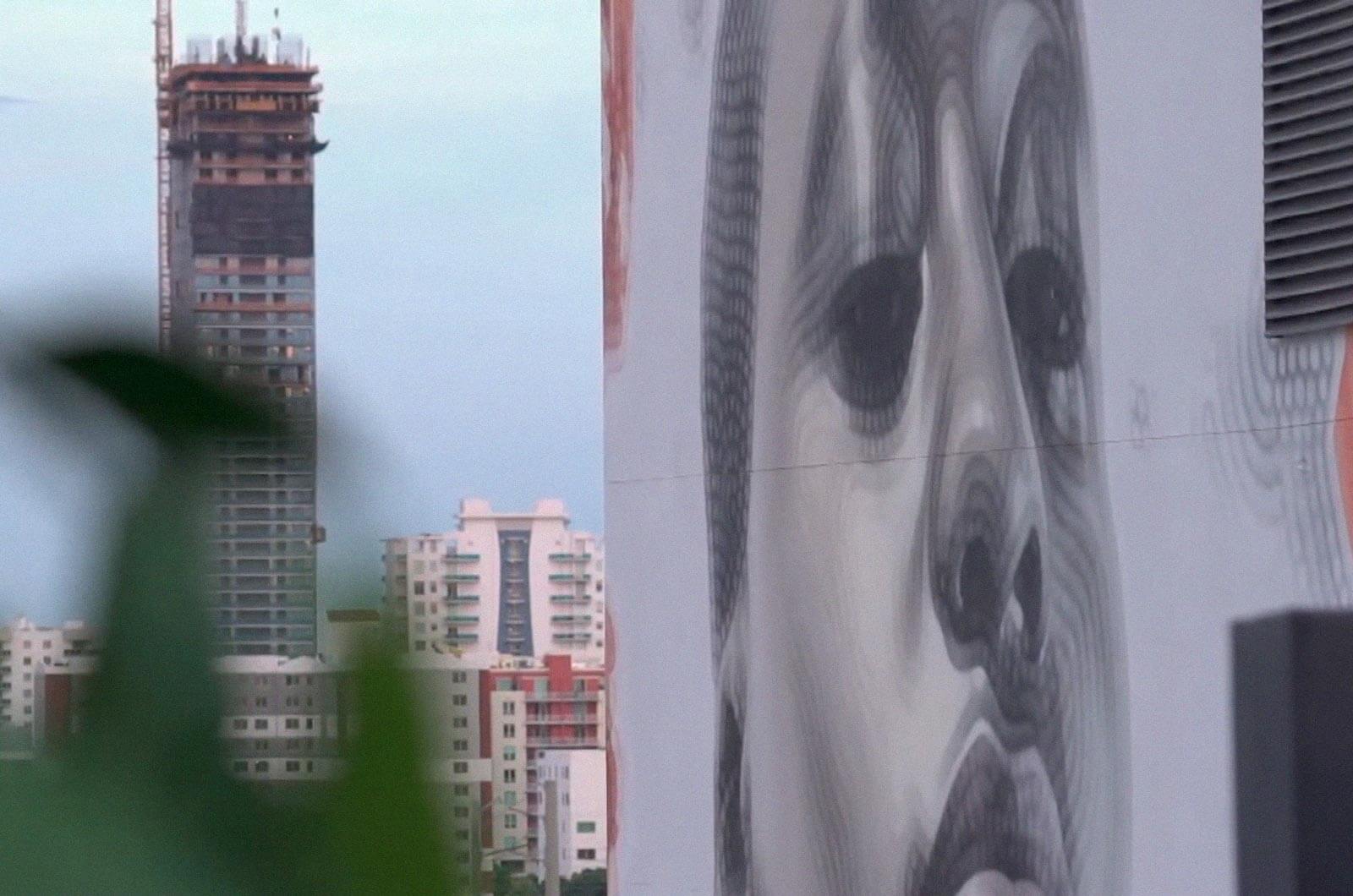 We've just dug up a South Florida PBS video that dropped last year documenting a gigantic mural produced by El Mac in Wynwood. The incredible video is a deep dive into the Los Angeles-based artist's work, revealing not only the meaning of his work, but also all the details and tricks of the unique process of his pieces.
---
"The technique is very difficult. It's ridiculously time consuming and the way that I paint is all lines and circles and patterns."
El Mac is undoubtedly one of the most recognizable naturalist muralists in the world, thanks to the innovative results of his interventions. Specializing in portraits, El Mac uses a technique that produces color gradients through patterns defined by fat cap lines. His murals are already legendary, and he has gained yet more mystique through speculation concerning his methods, difficult to understand and impossible to reproduce.
"From a distance these images hopefully look representational and realistic and accurate… and at the same time I hope that when people actually are in front of them, in person, and can see the details that that can work on another level. It's almost abstract."
Originally aired in 2020, The video that we've reposted brings us closer to the work of this North American artist like never before. Through his own testimony, El Mac discusses the idea, conception and evaluation of his own work on a technical and theoretical level, as well as touching on topics such as street art and his idiosyncratic technique. And if there is something really surprising in El Mac's work, it is the combination of perfection and his original approach to  applying spray paint. The use of the ice-cooled 94s and his devotion to the NY Fat Cap are some of the strategy he was rumored to employ, which the artist himself finally confirms.
"The first time I actually heard the term "street art" here in Miami in 2008 we all was like "what is that?" cause we were all coming out of a background in graffiti and fine art, and we called it graffiti. From my own experience that was a turning point in this whole movement. I never really liked the term street art, I never really embraced it, but it is what it is."