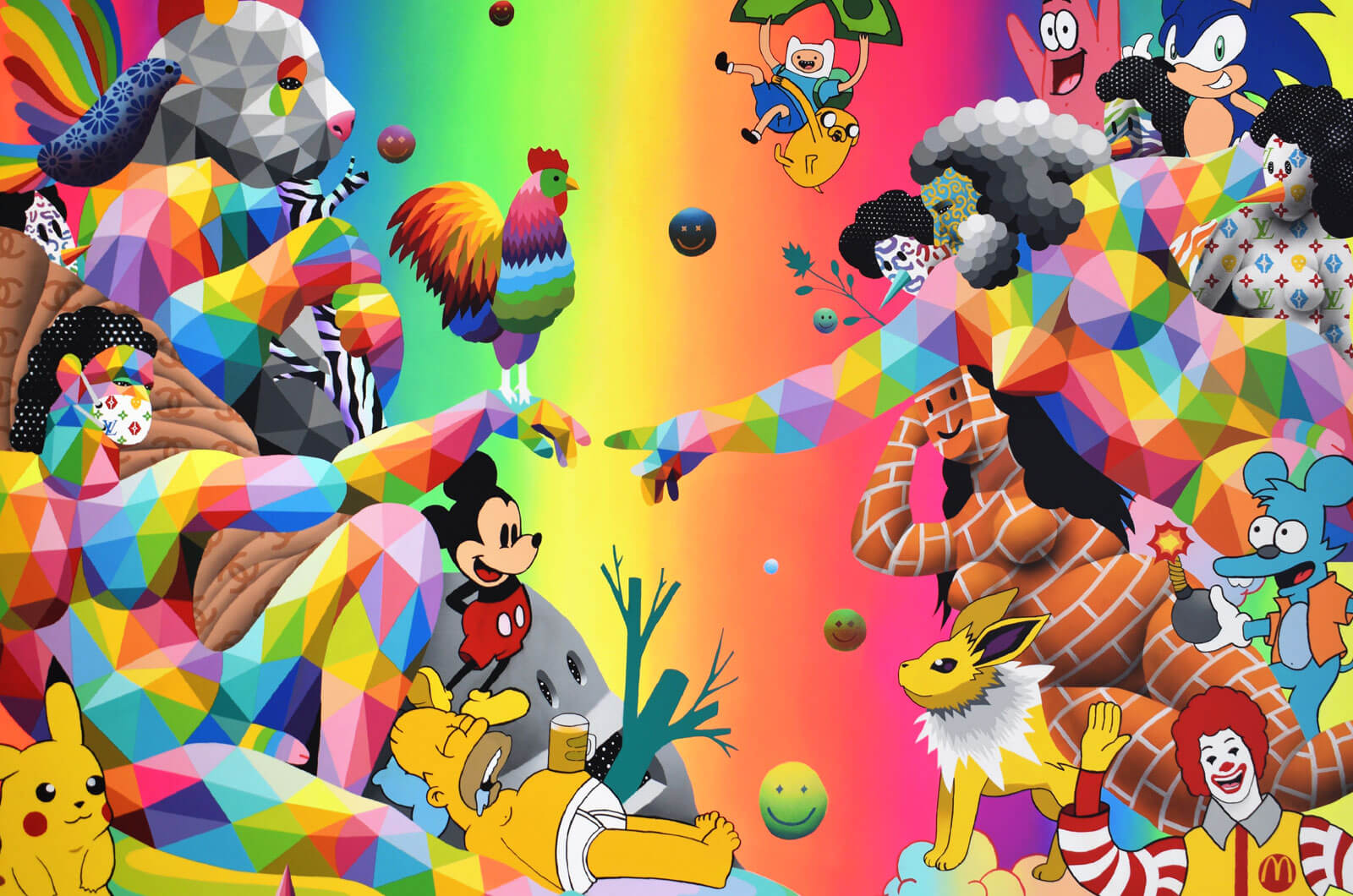 This month at Montana Colors we've celebrated #mtnwokemonth: a series of publications and articles on MTN World and on social media highlighting the role of graffiti, street art, muralism and exhibitions in promoting social causes. We can think of no-one better to cap off the month than Okuda San Miguel, a world-famous Spanish artist who makes no secret of the role of his art in the promotion of freedom of collectives of all kinds.
MTN World caught up with him during the production of a huge new collaboration in Valencia with Sixe Paredes to talk about social causes in art, the effect of travelling on the environment and his support for the LGBTQI+ community.
---
Are there any artists that you think have an interesting social message?
I love Icy and Sot, I think their work is incredible. Besides, I know their backstory: they escaped from Iran because they were going to be imprisoned just for their art, and they have political asylum in the United States. What they communicate in their work is outstanding. I actually have one of their pieces in my collection. I also like Escif and Banksy, but I really want to highlight Icy and Sot.
'The main thing my work deals with is freedom, freedom of all kinds. The message is freedom and diversity, of course, gender and sexual diversity. Therefore, I support the claim of the LGTBQI + collective, but not only with my work, but also with my life.'
From the point of view of someone with experience in the street and galleries, what can the world of graffiti learn from the art world, and vice versa?
When it comes to collaborating with other artists or adapting the work, in my case it arises in a very spontaneous way. This ability comes entirely from graffiti. On the other hand, graffiti absolutely has to be in the street, so the work that urban artists or writers can do in their studio will always be work with a professional objective, to be sold.
Each discipline has its place, but for me it is important to underline that there is a current of artists who come from graffiti, like me or many of my friends, who are doing something quite big in contemporary art. Thanks to that, it could be said that this is the latest chapter in the history of art, led by artists who come from the street.
Does your work have any elements linked to the LGBTQI+ collective? Do you think your audience could interpret those meanings?
Of course, due to the way I compose and the chromatic range I use, I refer to this social issue. Although it is not my main intention, I am glad that, even spontaneously, my work contributes to the activism in countries like Russia, Ukraine or other places where propaganda of this kind is prohibited.
'I am a spokesperson and standard-bearer for freedom, diversity, multiculturalism, among other universal messages that are in my work.'
Has your work received discrimination in that sense in any case? How have you managed it?
During one intervention, a government worker painted a rectangle of a work of mine dark blue instead of purple. Had they left it, I could have been arrested for producing LGTB propaganda. The beauty of this is that the media picked up on it and an interesting debate was generated in a place where it is necessary to discuss these issues.
In another project, my representation of female breasts and male genitalia was censored. The bodies actually ended up looking like those of trans people, so thanks to the censorship the message seemed to vindicate diversity even more.
You have publicly supported the LGBTQI+ collective, which is unusual for artists in our sector. Do we have a problem with homophobia in urban art? Or is it simply a reflection of society in general?
I don't think there is homophobia within urban art, far from it. Of course I have publicly supported the LGTB + movement a thousand times, obviously. I personally support the movement myself and with everything that I upload daily, since my Instagram is like my diary.
The main thing my work deals with is freedom, freedom of all kinds. The message is freedom and diversity, of course, gender and sexual diversity. Therefore, I support the claim of the LGTBQI + collective, but not only with my work, but also with my life. I consider myself active in supporting causes, movements and artists linked to this movement in which I also feel like a participant.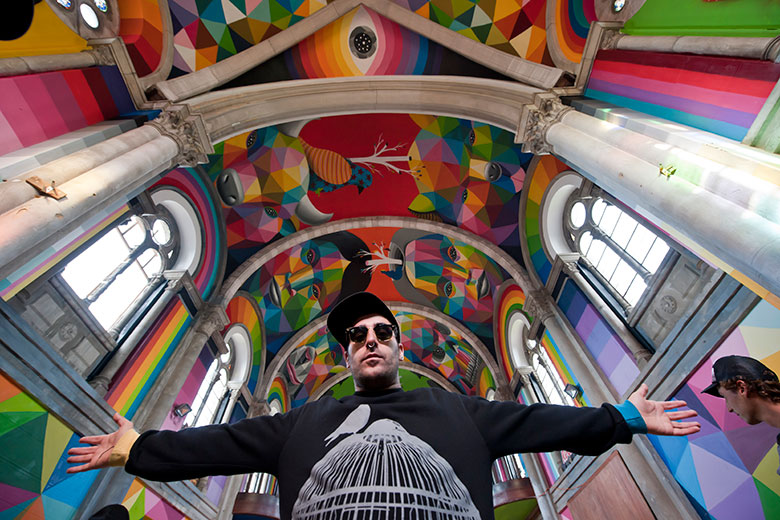 We don't consider that an artist should be a spokesperson for a group like LGBTQI+, but at the same time, we think that it is essential to offer a platform to give exposure to people who have not traditionally appeared in the media, and a place for them to express themselves. Do you think it is enough? What else can or should we do to progress in our scene?
I don't think I am a spokesperson for any group. I am a spokesperson and standard-bearer for freedom, diversity, multiculturalism, among other universal messages that are in my work. It would be nice to have a platform that gives a voice to everyone so that they can express themselves on their path, with art or without.
I believe that social networks are providing a lot of support in this regard, but any similar initiative should be welcome.
There is another paradox in the city of Madrid, where there is a very open social scene but has traditionally had a conservative government and city council. Do you notice this conflict? Is it a good place to live and work, despite the politicians?
I think Madrid is the perfect place for me. Apart from the fact I feel very "Madrileño", I've lived in many places in the world but Madrid has a series of components that contribute to my decision to make it my central base. The climate and the light is incredible and for me, the light of the day is the most important thing. Finding a large studio anywhere else could be difficult, but we've managed to do it here.
On a political level, I think that after 20 years living in Madrid, I was able to start a mural in the center of the city, under a conservative mandate. Regardless of the type of government, the attitude of the political representatives may be more important than their ideology. Fortunately, for these things to happen, it doesn't depend solely on them.
Let's talk about the environment. Are you aware of the possible negative effects of being an artist who travels regularly? Have you changed your mind or plans in the last 15 months?
More than my opinion, I've changed my agenda. I'm like many artists who travel constantly, but you also have to see the positive side. Suddenly being forced to work in the same place for months opens up new paths for you, forces you to experiment with new formats and even disciplines, or add new elements to your work. More time to think, change and evolve.
I've also opened new exhibitions without being present at them. It's positive to think that everything can work in such an organic way, and if it hadn't been for the pandemia, I would never have stopped to think about it.
I'm very happy now to return painting murals in public spaces, like my latest production with Sixe Paredes.
We're very happy to see the return of exhibitions and festivals now that it seems that we are emerging from the pandemic. What plans do you have for the rest of 2021?
The truth is that the situation reminds me of Spain after the repression of the Franco regime, when there were the greatest moments of freedom. I think that will happen worldwide and I want to experience it.
On a professional level, I'm going to launch my own brand of glasses, shortly my own brand of wine. We'll move to a new studio where we have a series of departments to generate more ideas. The subject of architecture has always interested me, and we are going to begin to work with it in different formats. I'll also visit new and not so new places, like Korea, Miami, murals like the one on Reunion Island, a collaboration with a musical artist: new things, different from what I've done until now, at a time that I think is appropriate. Basically, I really want to go all out.
Want to find out more about Okuda? We've got you covered! Read out about his famous lighthouse intervention, his work at the Church of Cannabis and his take on the Mona Lisa right here.