Each year our flagship stores collaborate with local artists to produce special apparel for the summer. The 2021 drop from our OG outlet, the Montana Shop Barcelona – Born, has been designed by writer and designer Sega 75 of the Tobogang crew. MTN World sat down with the Navarre native to break down the new design.
---
For people who don't know you already, can you introduce yourself?
I am a normal kid like any other. I started painting graffiti as a teenager in my hometown, Pamplona, ​​and there I began to develop my professional career as a graphic designer and illustrator. I've been living in Barcelona for a few years, where I continue to paint walls and work on what I like. I get around the city by bike, I love music, eat well and have beers with my people.
Do you consider yourself a professional artist? What other disciplines do you combine your graffiti with?
In every project or job I do, I try to do my best and learn new things. I work as a graphic designer, art director and graphic illustrator. I love the balance between these highly digital fields and graffiti, an analog and classic art discipline.
'In every project or job I do, I try to do my best and learn new things. I work as a graphic designer, art director and graphic illustrator.'
Is graffiti closely related to design, from your point of view?
As I understand graffiti, I think it is closely related to design, because of the colors, the compositions and the typography; as well as the communication, self-promotion and marketing that you use to promote yourself through your brand and your shapes.
In the reel that was published some weeks ago at Montana Shop Barcelona's Instagram account, we saw you painting by the seaside in Barcelona. Why did you choose this location?
My design for the Montana Shop Barcelona summer t-shirt was inspired by the environment of the brand and friendship in graffiti. It was only right to paint on the Barcelona coast alongside with Jedis, one of the people I've painted walls with most often. For me it's very important that everything has a common thread, from design to product promotion. And a quick swim was essential!
TG pieces are characterized by their elegance, with flat and well-combined colors. Do you have a name for your style? Where are your influences from?
One of the hardest things is defining your style in a few words. It could be said that the style of my pieces and those of the TG crew is classic graffiti, with classic conventions, bars and arrows, but modernized in a way. My influences are very varied.
I consider myself a very active and observant person and I follow creative trends in many fields. When it comes to graffiti, I like how many people paint, but without a doubt the ones I like the most and influence me when it comes to painting are my friends, my crew.
'The truth is that I love to explore and study the origins of culture: graffiti, music and the places I visit.'
What do you like the most about the possibilities of painting in Barcelona?
The truth is that I have mixed feelings about painting in Barcelona. The most enriching thing is meeting a lot of different people from many places on the planet, but the worst thing is the difficulty to find a beautiful, virgin wall. For this you have to invest a lot of time exploring and in the end for convenience you end up going to the local Hall of Fame.
My hometown Pamplona, on the other hand, is ​​a paradise for painting in abandoned factories, bridges or clean walls in the middle of nowhere. When I arrived in Barcelona it was a bit of a shock. For example, in Pamplona it's very common to see pieces from 15 or 20 years ago, while here in Barcelona, that's is almost unthinkable.
What aspects of the local scene have you included in the design of the shirt?
The brief was very clear: Barcelona and graffiti. The truth is that I love to explore and study the origins of culture: graffiti, music and the places I visit. One of the elements that has always caught my attention about Catalan culture are the castellers (human castles), since they combine camaraderie, friendship and trust; elements that for me represent graffiti, where each person plays an important role in order to achieve something great, and reach high. Also, going out with friends at night in summer with some beers and paint is also classic Barcelona behaviour.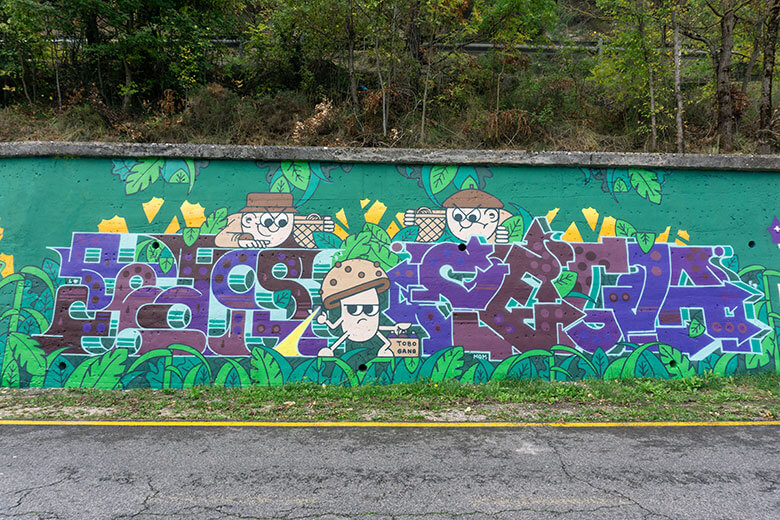 The reel also shows the entire process of the creation of the shirt, starting in your studio, passing through the workshop of 43 Hilos and ending up at the beach to take promotional photos. Did you like working like this, with a degree of involvement in each step? What added value does the launch have thanks to this local production?
I consider myself an extreme perfectionist and I like to follow the creative process of an entire project, make sure that everything is is order and check the colors I've chosen. I also like to put a face and humanize the creation, not suddenly receive a box at home with the final product and that's it.
If you're going to sell a shirt in Barcelona, I think it's very important to source the materials locally, that's why finding 43 Hilos was a total success. I was able to follow the entire production process because I live ten minutes by bike from the workshop and Jenn, the owner of the project, has a way of working very similar to mine, apart from being a great professional. Everything was very easy and satisfying.
I'm a great supporter of local commerce, so I think the fact that the shirt has been designed and produced in the same neighborhood gives it incredible value.
You can see my work here. And my Instagram here.
Sega's Summer T-Shirt is available from the Montana Shop Barcelona – Born, the Montana Shop Barcelona – Gràcia and from Sprayplanet.es until stocks last.
The design also features as the cover for the brand new Montana Shop Barcelona – Born playlist, that you can check out below.