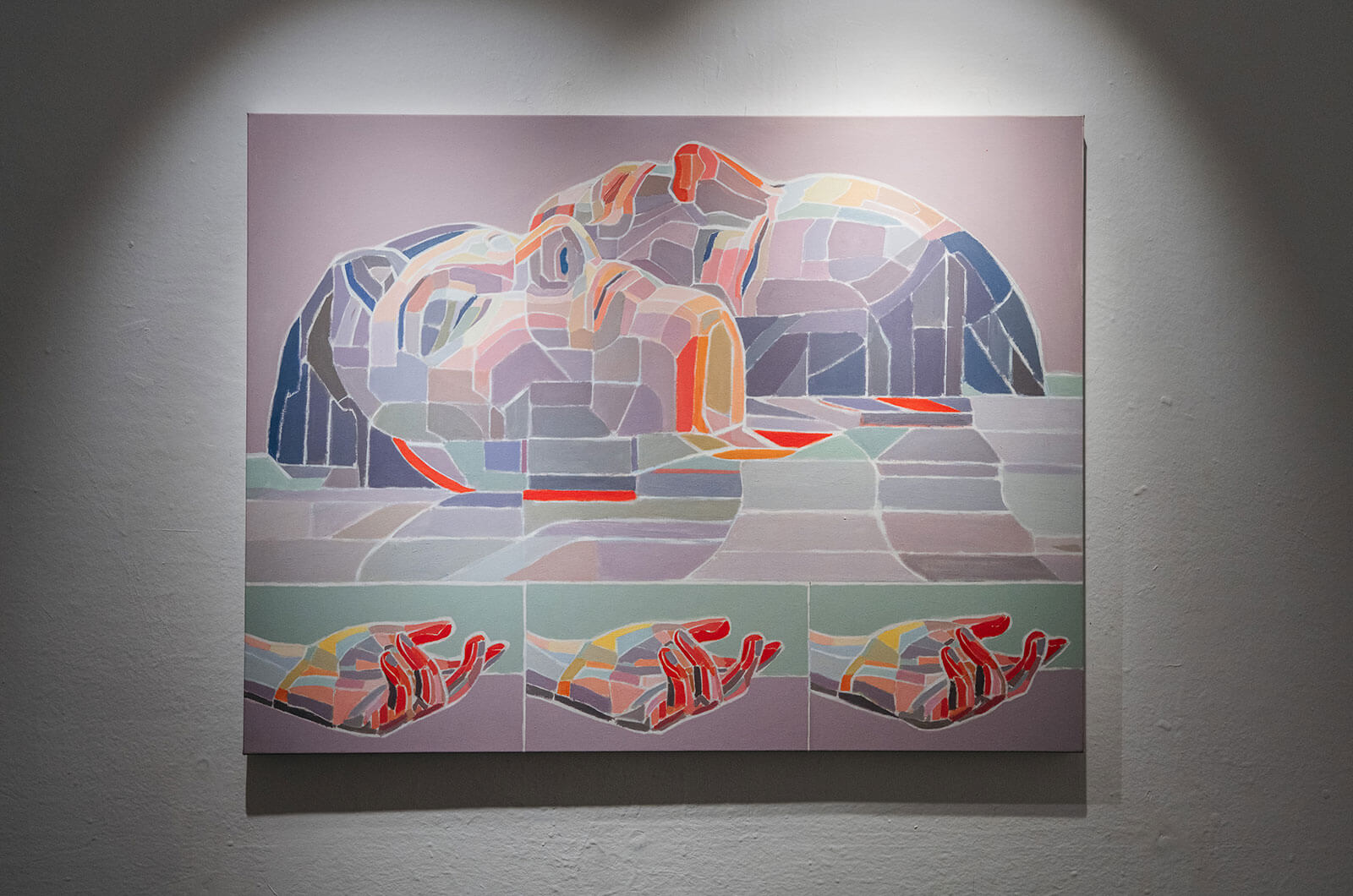 Piero Maturana is a painter and muralist whose latest exhibition opened at the Montana Gallery Barcelona last week. Based in Concepción, Chile, his work is characterized by an almost synthetic approach to figurative painting: pastel colored vectors meet to portray solemn characters and still life.
MTN World sat down with the artist during his stay in Barcelona when he explained his background in graffiti using the most humble means, his forays into photorealism and his current distinctive aesthetic.

---
Piero's route to the Montana Gallery Barcelona was been surprisingly direct. "Instagram is my portfolio," he explains to MTN World at the informal terrace of B.Murals in Barcelona. "I've been painting for years, posting all the best stuff and that's how I ended up getting invited. I got a direct message from Anna Dimitrova offering me a show. I was delighted."
"It was then that I realized it was possible to paint on trains or in the streets. I don't remember drawing that much as a kid, but I do remember my first interest in graffiti."
These digital links are an example of the ability social media to allow artists to share their work with a worldwide audience, even if they don't come from an established art capital. Piero admits that Concepción doesn't have the strongest mural art scene – "It has a long way to go yet" – but recognizes that the city's graffiti scene is alive and well. His artistic leanings can be traced back to street bombing, as precocious 13 year old, when he first laid eyes on a European graffiti magazine that his cousin had come across.
"When I saw pictures of graffiti, I was amazed," Piero remembers. "It was then that I realized it was possible to paint on trains or in the streets. I don't remember drawing that much as a kid, but I do remember my first interest in graffiti." The artist is in a great mood, all his recollections seem to raise a smile of a chuckle. Along with his Chilean accent, it makes for infectiously positive energy.
Piero was still living in his natal city of Curico in the centre of the country when he started to tag with his cousin and a couple of friends. With no artistic materials available to the young crew, they found another way to write their names: with coal. "It rains a lot in Curico and we were stoked when some of our tags survived for a while. Without knowing it, we were discovering the ephemeral nature of tagging."
As Piero grew up, he and his crew enjoyed the feeling of empowerment that tagging gave them: "We felt like bosses of the streets, we could do whatever we wanted!" So logically, their means of painting developed too. "I had friends that would fill an empty tube of toothpaste with a sponge soaked in ink to tag. The means were really DIY." They were lucky that Curico was permissive of their activity at the time: "It was easy. There were loads of walls and not many police."
Piero's first tag was "Seiko" – his dad was a was a watchmaker – but he soon had designs on painting more ambitious pieces. He and his brother were inspired by the 3D graffiti of artists like Daim which would have a lasting effect on his skills as a painter: "I started to understand concepts of volume, light and shadow." He still didn't have access to spray paint, so he became adept with a brush.
It was around that time that Piero realised he'd need more time to produce his work, so it led to a switch in tact: "We started painting in the daytime, with permission, so we could paint more elaborate pieces in a more relaxed way." His subject matter evolved from 3D letters into portraits, but still very much influenced by the international graffiti scene: "It was around the time of Fotolog. I began to discover writers like Belin, from Spain."
Piero's drive to improve his craft was evident in his work of the time: "I wanted to paint the details associated with photorealism. So I'd look through fashion magazines that I had at home, because they had the best resolution, and try to paint the models, by that time using spray paint. My passion was painting."
Piero still couldn't get the wide range of specialized graffiti paint available today, so he improvized, mixing aerosol paint by hand: "I would buy a can of red, blue and yellow, and two whites. That was my purchase to paint a mural. So with a couple of empty cans and the ink tube from a Bic pen, I could make my own colors." The experiments weren't always successful, however: "Once or twice the paint exploded in our faces! You'd have to mix everything at arm's length!"
He was more than content painting his city's streets throughout the 2000s, but the moment came for Piero to take art more seriously. He went to study art at college in Concepción to further his painting expertise. He painted less mural productions and went back to work with brushes. He also wanted to evolve from the photorealism he'd been using for several years: "I started looking for my own personal line, not as realistic. First I fragmented the figures, then I started to reduce the width of the outline, until the current point where spaces are what defines the forms."
The colors are a clear trademark of Piero's work, result of his background in mixing colors rather than using factory shades: "I like working with colors that don't have a name. I try to find a balance of gray and saturated tones, that can sometimes be dissonant and other times concordant. I try to find colors that produce tension." The Chilean artist seems to have found an individual style, bright yet somehow melancholy, with his graffiti and fine art dues paid in full.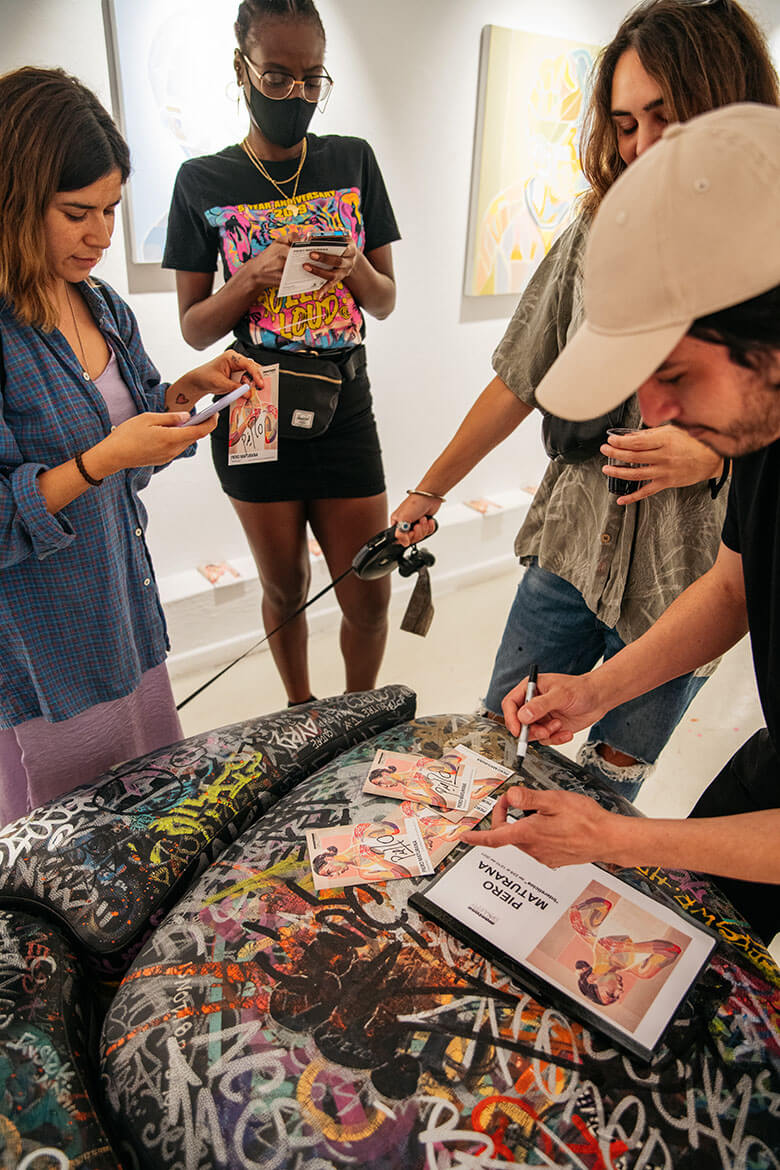 "Intersticios" by Piero Maturana is on show at the Montana Gallery Barcelona until 12th November.