The following episode of MTN Water Based Studio Works is an introduction to Popay who in his turn opens the doors to his workspace. This wise french artist explains to us how the technique comes to originate new forms of aesthetics. A quite interesting topic related to the appearance of MTN Water Based 300.
'The aesthetics are changing as well as the relationship of painting with the audience. Being able to bring paintings outside of the museums… it is alive and has a relationship to life because there is no art that isn't alive and shared, and for that reason it's good. For me, technically speaking, being able to paint with water based spray paint now means that I can paint big canvas' in the studio and mix it with acrylic and brushes.'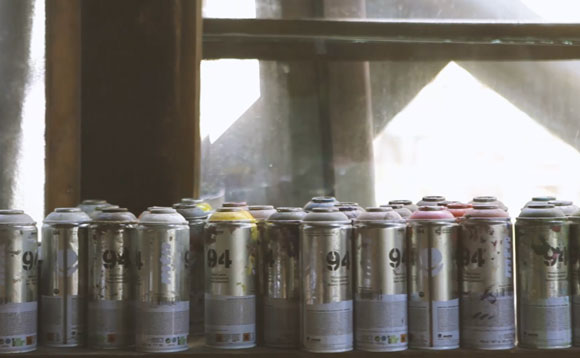 In the video we come along on a visit to his remarkable studio while he goes to work a small piece.
'When I finished high school I wanted to study Fine Arts, and they kicked me out 3 times. I couldn't even enter the contest… the kicked me out. Well, twice from Fine Arts, and 3 times from Art Deco. But I was enthusiastic about painting and I kept painting… what was I going to say? Ah yes, and for that reason I painted mostly in squats. They were abandoned houses illegally occupied by people who had to work and live. We are now in a place that has been occupied for 10 years, and we have kept it very secret.'
On the other hand, the subject of the harmfulness of classic aerosols is of great importance to Popay, a disadvantage which MTN Water Based has come to offer a solution to.
'The thing about painting in the studio with so much paint as if you were outside, is very bad for my health. Now I have a solution. It's great. And above all, I was doing this technique of interchanging the paint brush with the spray paint in order to achieve results that you can only get with the two combined.'