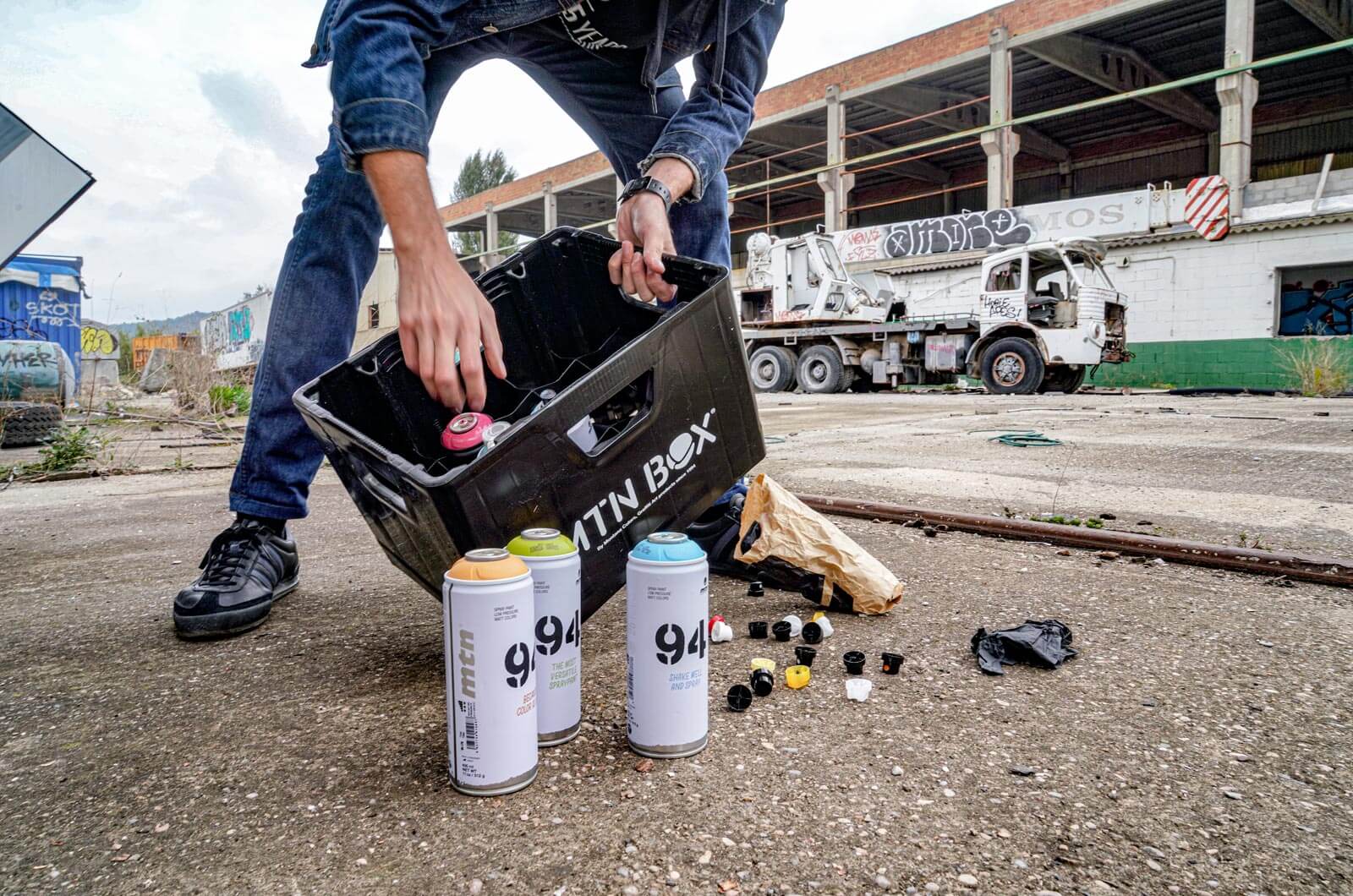 The Montana Colors family of accessories continues to grow little by little. Today we present some novelties which surely will surprise you.
---
OUR OWN CRATE: THE MTN BOX
At Montana Colors we constantly put in effort to find solutions to writers' and artists' needs. It's a commitment that's only possible by constantly paying attention and being in contact with our customers. In doing so, our developments are guided both by the creation of new products, and the perfecting of already existing tools. So, following this premise we present the MTN Box.
The stackable plastic crates used to transport fruit, vegetables or drinks are convenient containers that many writers use to transport their paint comfortably. As an added bonus, the box itself serves as a stool for sitting down, or as a step to physically reach higher while painting.
The MTN Box is a plastic, stackable crate designed to transport and store spray cans in an orderly fashion from your house to your car trunk. Manufactured in the European Union, their solid, recycled plastic structure is specially designed to withstand the weight of an average person, allowing you to reach 40 cm higher.
The interior partitions are specially designed for storing all of the MTN aerosol ranges, providing storage for 20 (Mega Colors) to 40 (Water Based 300) cans depending on their different sizes. When filling the box with 400 ml cans, the leftover space on top is perfect for storing gloves, caps or any other useful supplies.
Minimum capacity: 20 cans
Compatible with all Montana Colors cans
Recycled plastic made in the EU
Available in white and black


---

NEXT STOP OF THE MTN SYSTEMS: GERMANY AND AUSTRALIA
If you thought that the MTN Systems route was reaching its end station you could not be more wrong. The network continues to expand! And this time it does so in two directions as different as they are intriguing: Germany and Australia.
Each MTN Systems model is a tribute to the graffiti scene in specific places in the world, as well as a nod to the train writers who catalog their pieces on these means of transport. The last extension of our transport network reaches two scenes that are very distant from each other but at the same time enormously important in the world of graffiti.
Representing the German scene, the S-Bahn Class 472 is the wagon that inspires the design of the model, while two different models are dedicated to the Australian scene. The S-Set (Sydney) and the Metro Train (Melbourne) are the iconic trains of antipodean steel graffiti that are now also available as a cardboard miniature.