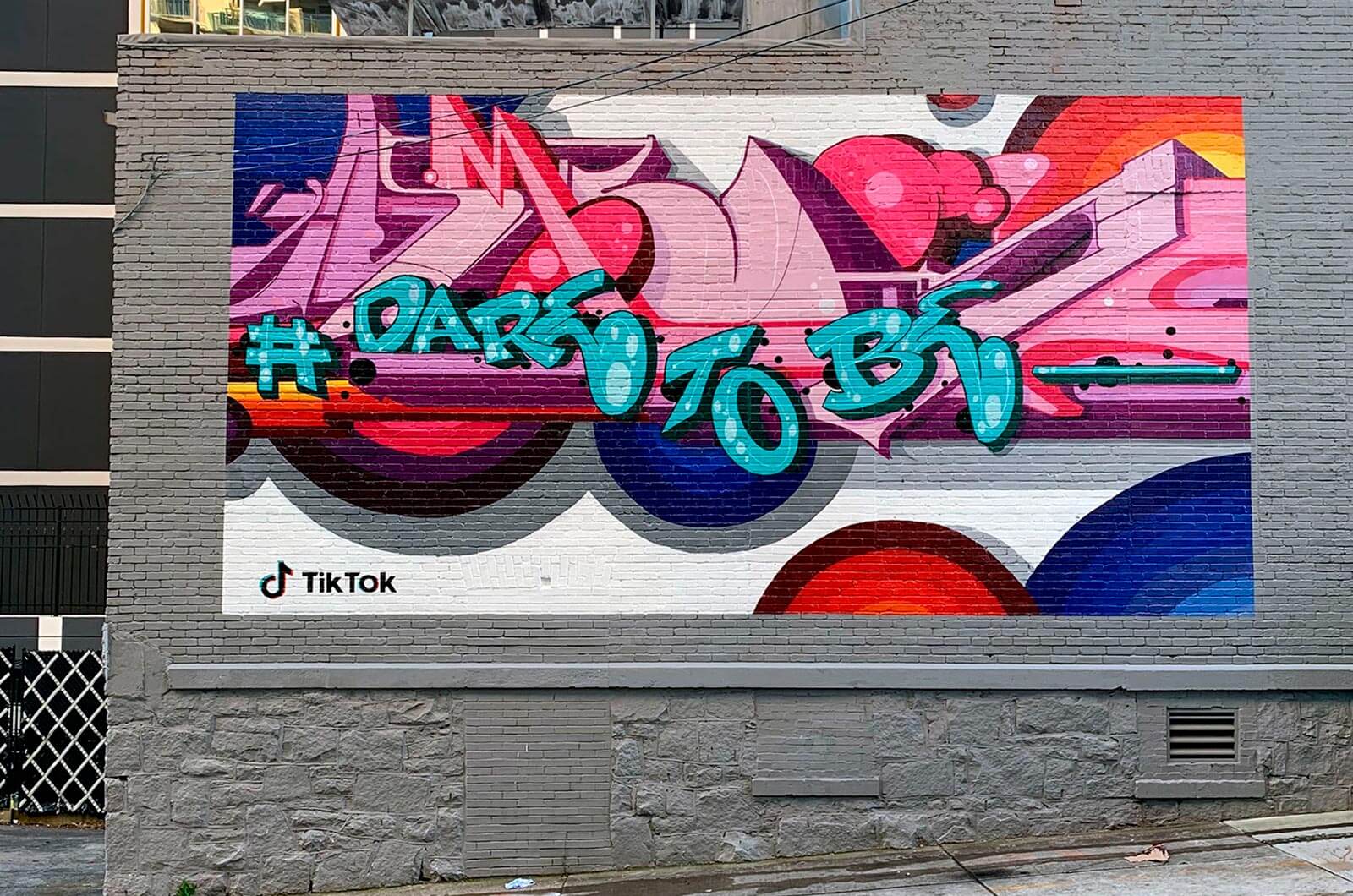 Text by Mark Dix, picture Amuse126 & Merlot.
In light of the explosive success some accounts are having, we analyse whether the best way to promote your graffiti is on TikTok.
---
Graffiti has always been about competing for space. Whoever paints bigger, in more spots, gets more recognition. From walls to subway trains and anywhere else you can leave your name; the objective is the same.
The media has long served to amplify the actions of the artists. Whether they deserved it or not, the press dedicated to Cornbread and Taki 183 cemented their place in graffiti folklore. Magazines, documentaries and websites have followed, but in the last decade or so, social media is the place where the artist has total control over their own output.
FROM THE METRO TO THE MEDIA
Old school digital writers will remember fondly the days of Fotolog, some ventured into MySpace too. Facebook defined the early part of the century, and retains a massive number of users, but engagement is very poor, especially if you publish your pieces to a page.
It's no secret that the current platform of choice for the graffiti community is Instagram, but it's a real challenge to get seen due to the amount of users fighting for your attention. If you've worked hard to earn more than 50k followers, you might only reach 18 % of them with your latest burner, and that's by jumping through all the hoops suggested by Zuck: carousels, reels, stories, publishing at the right time, no nudity and so on.
TIME FOR TIKTOK
TikTok is the new boy on the block. Founded in China in 2016, it already has 600 million users, and there is clearly interest for graffiti-related content: videos using the hashtag "graffiti" have accumulated 5.1 BILLION views to date. The surprising part is that the aerosol artists have yet to move on to the platform in any significant number. This list of top graffiti influencers on TikTok doesn't feature any of the superstar names from our scene, and some of the videos with most plays – like this one with 7.6 million views – seem to lack any artistic sensibilities whatsoever.
It's clear that TikTok was pitched at a younger audience than Instagram, with attention spans that could only be measured in nanoseconds, but there are now creators of quality content who are tailoring their documentation accordingly. We told you about Galeria Koloru last year, and writers like Aches and Secko are certainly worth a follow.
The advantages of creating an account for graffiti writers are clear. Simple ideas can accumulate thousands of plays, even in the case of brand-new accounts with few followers. Just take the Montana Colors account for example: a video showing the German writer Nomad painting got over 15 thousand plays, 1500 likes and 20 comments at time of writing, pretty impressive considering the account has a modest 2000 followers.
FAME IS JUST A CONSEQUENCE
A lot of real writers will argue that fame on TikTok, or any other social media platform, is not as legitimate as being seen in the street, on trains, trucks or any other physical surface. A completely understandable point of view. Graffiti, has traditionally involved putting your name or symbol in a place for maximum exposure. However, as we spend more and more time in front of our screens, perhaps the future of getting fame will depend more on the algorithms of a mobile app than what we're capable of producing irl.
Which artistic outlet is more creative? Sketching a wildstyle and transferring it to a wall or documenting the process in an eye-catching way for people all over the world to enjoy? We'll let you be the judge of that.