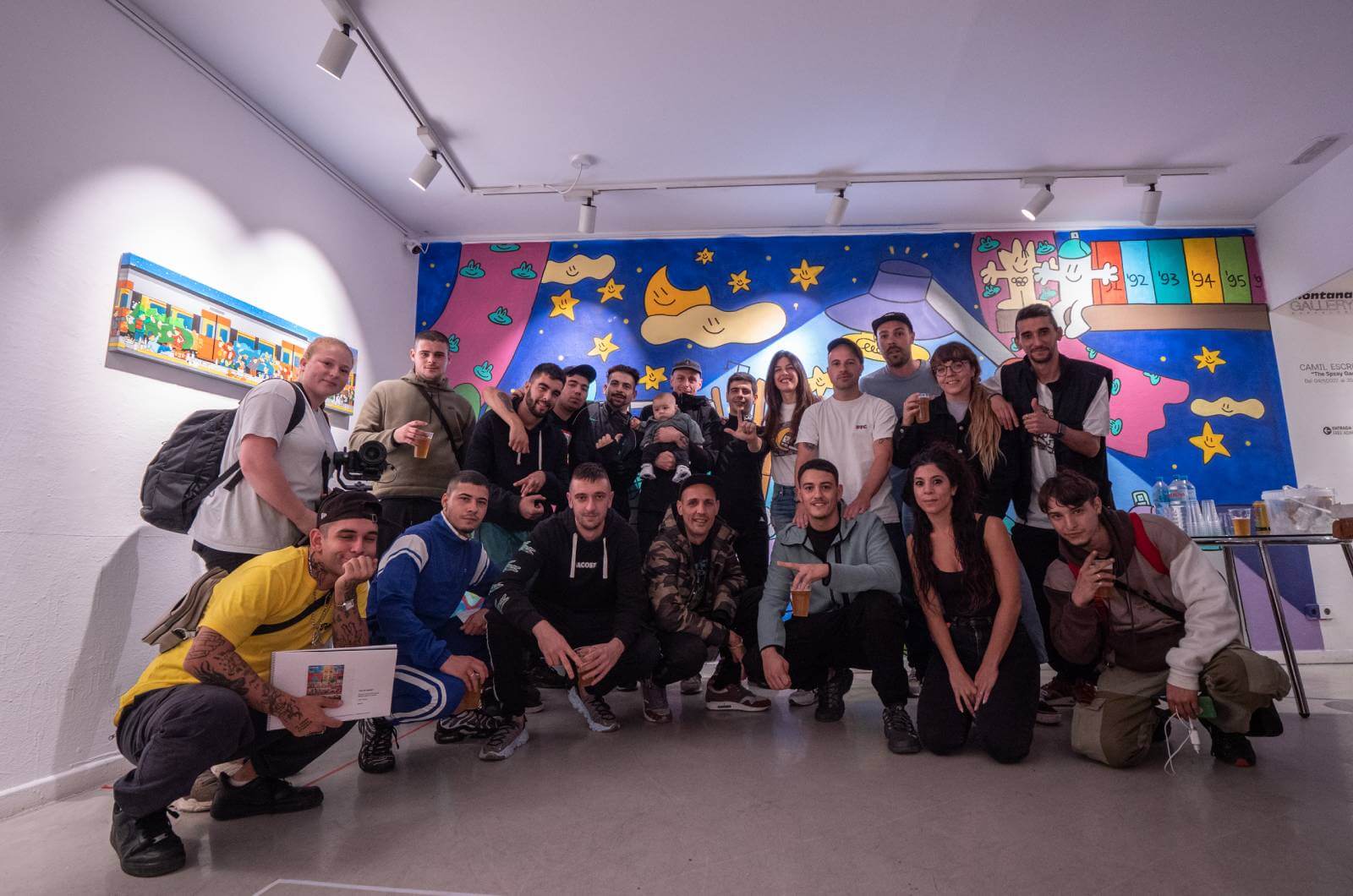 The Spray Game is the title of the long-awaited exhibition by the Barcelona-born artist at Montana Gallery Barcelona. Camil Escruela opens the doors wide to his endearing universe with a selection of interesting and entertaining canvases as well as elements that show the formal versatility of his imagery.

---
Three meter-high spray cans, which seem to guard the space, welcome visitors to one of the most colorful exhibitions in the history of the Montana Gallery. Camil Escruela's style of painting on canvas focuses on compositions packed with information in which he attempts to describe Barcelona's gigantic graffiti universe in all its facets: from the adventures of its protagonists to the spaces in which it takes place, either interior, exterior or even dreamed up. All this is framed in a playful component that is perfectly illustrated by means of a video game installation specially created for the occasion. In addition, a tapestry created from Camil's imagery presides over the exhibition, making the gallery an even more welcoming space. It is worth observing that four of the works have been made in collaboration with Nami "La Mano", the legendary and mysterious writer and urban artist from Barcelona who is a mentor of Camil and one of his greatest influences.
After coming into contact with graffiti in 2004 and following his compulsive activity in the street and yards, Camil discovers his true artistic vocation in 2011, turning fully to easel painting. Currently his work spans different terrains ranging from digital illustration to the production of his own three-dimensional figures.
Camil's figurative language points to experimentation based on clear aesthetic references that come from naïve art, art brut, pop art, comics and illustration. Claiming the personality of a contemporary Barcelona that goes from his revolution of the Olympic Games to the explosion of urban art and graffiti, its two main aesthetic influences give meaning to this conceptual framework: Xavier Mariscal and Nami, "La Mano", with whom he maintains a friendship and collaborates occasionally.
Alongside the avant-garde flavor of his spontaneous and amusing style, his compositions include themes, codes and symbols of street culture in all its manifestations; be it graffiti, art, music, fashion or technology, proof of Camil's constant interest in current affairs and trends.
So, while Camil amuses himself by intervening in photographs of graffiti in action to satisfy social media's demand for content, he focuses the power of his creative energy on his canvases: literally windows to a fascinating universe in which the concepts of graffiti visit unwelcoming places. Dreamlike work that represents the unconscious obsession of graffiti writers through a poignantly enternaining lens.
In The Spray Game Camil invites us to visit all the dimensions of his multifaceted universe, giving us the opportunity not only to understand and enjoy his work, but to have fun like kids do.
This exhibition, of which a large part of the works have already been sold, will remain until January 20th.