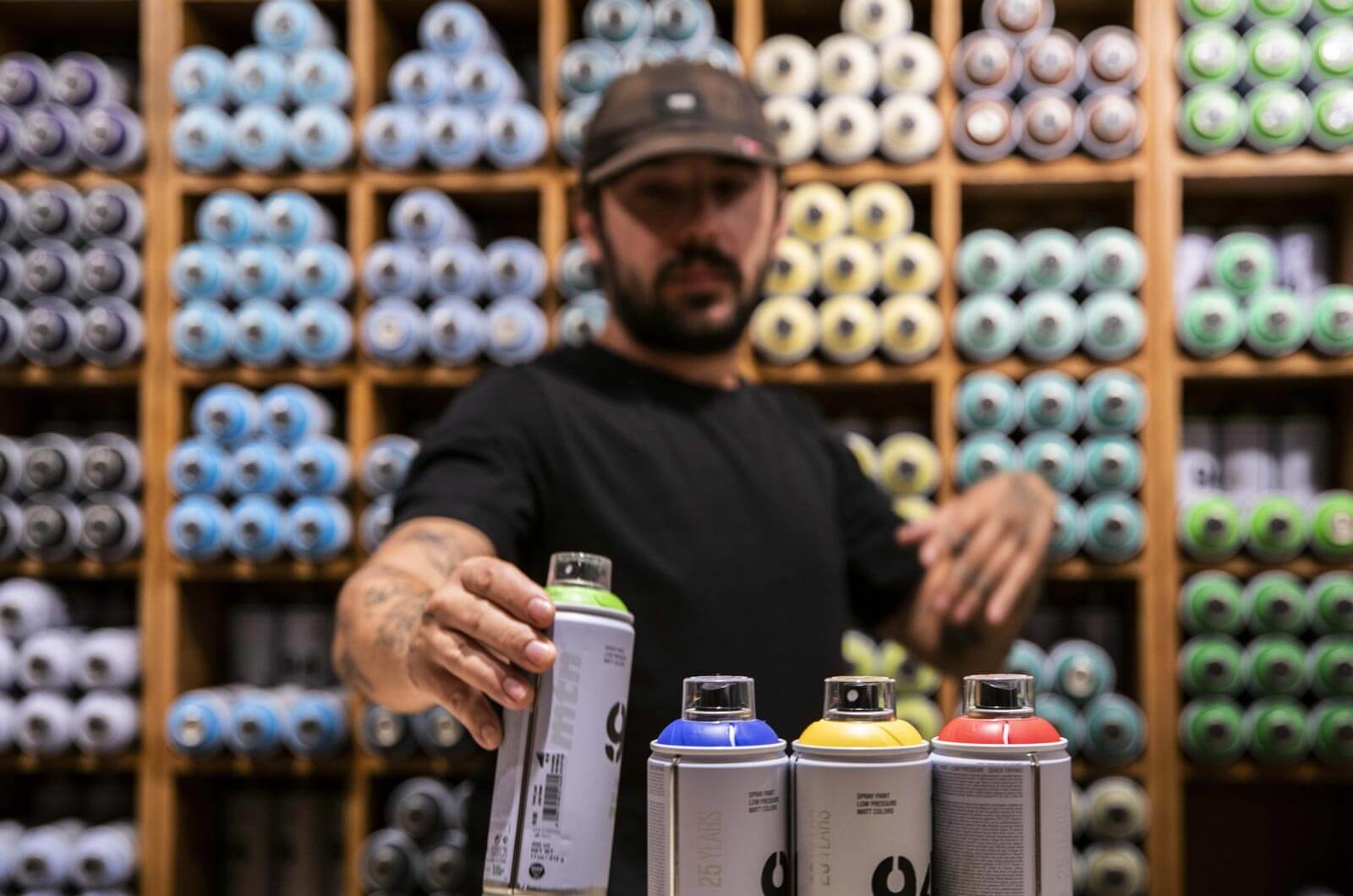 The group exhibition, "Faneto", which opens this afternoon at the Montana Gallery Barcelona, has brought the artist, 2Shy, back to Barcelona. For this occasion, the Frenchman prepared some fun tapestries that convey a truly welcoming feeling. You can enjoy their visual impact live, as well as the works of Abel Iglesias, Martí Sawe and Paul Loubet if you visit the gallery before November 2.
2shy's current style places great importance to primary colors so it's quite predictable to imagine which are his favorites. In taking advantage of the mural he did on Montana Shop Barcelona Borne door, we wanted to talk with him a little about art, graffiti, friendship, and of course, colors.
Pictures by 2Shy and Carmen Molina.
---
Your style nowadays is a little geometric and childish…
My artwork style!
I have two ways of working: letters and artworks. I started to draw geometric things about ten years ago and I can't explain why. When I was young, I learned lettering but I don't feel any sort of passion painting in that way… it takes so long. Now i prefer to do something quick.
Could we say it's instinctual?
Not really! Because when I do a canvas I do a digital sketch because I like to try different colors and when I'm happy with the composition I take it to the canvas. When I paint graffiti it's more instinctual.
What can you explain the characters you call "timidinos"?
The name has a funny story: I was in Milan and had been invited to paint in a shop. One guy asked me some questions and before he left he said, "ciao timidino", because of "2shy". One day I painted a character in a graffiti piece and started to think about taking it as an icon. They are shy characters. You can't see their mouth… they're hidden like vandals.
"All this became a joke between my friends about my ability to do characters."
Around 22 years ago I was in Barcelona with Honet and Sexy. We painted a wall and everybody had a spot, but my space was so tiny but tall. So I did a big shitty character that looked between Michael Jackson mixed with Mick Jagger. Now, all this became a joke between my friends about my ability to do characters.
Were you high?
No. On that occasion I was straight. I was painting many trains and wanted stay under control. I painted three or four times when I was high but I don't like.
Do you still paint trains?
Yep.
"My favorite MTN color is Madrid Red… it's crazy!"
What's the importance of colors in your artwork?
Twenty years ago my train pieces used very experimental colors, like grey, kaki, and white outlines, but I changed and I don't know why. My evolution went towards the basic colors.
Which are your favorite colors?
Blue and yellow, yellow and red, primary colors…
My favorite MTN color is Madrid Red… it's crazy!
About the Faneto exhibition, what's the link between you, Sawe, Abel and Paul?
I met Paul in Argentina 6 or 7 years ago. Now we are friends. We communicated easyily because he speaks French. We both met Abel in Valencia and he is a really funny guy who's always joking and smiling. I met Sawe in Paris like 5 or 6 years ago. Every time we meet we paint together. Last New Years Eve, Paul and I went to the party at Sawe's place. We have a really cool relationship.
"The exhibition is definitely about our art language."
I really like the kind of art they do… really bright and with similar colors to the ones I use. Well, maybe Paul is little bit darker. The exhibition is definitely about our art language.
How can you define your artistic quest?
I'm searching for a more conceptual kind of art. I'm not used to spending much time thinking about a project. I just look for inspiration. I can see something; a color or an idea anywhere and it guides me to creating work.
What will you paint on the Montana Shop Barcelona Born door?
I'll do a vertical composition… like a totem, but with letters of the names of the artists in the exhibition in a funny, non-abstract way.